Happy Hump Day!
This week is flying by and I'm glad. I know I'm wishing my life away but weekends are just so good. I took Monday and Tuesday off from running. I just didn't feel like it. Instead I did some yoga and just stretched out my tight muscles. Today is different. I miss running! So after work I'm lacing up the Mizunos for a run. Yay!
I'm linking up to the WIAW party again hosted by the lovely Jenn at Peas and Crayons.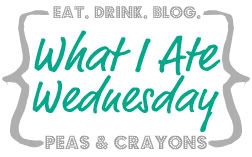 Just wondering, do you all even care what I eat? It feels kind of weird to post my food. But I know I like to get ideas for recipes and new food from blogs so I hope you are o.k. with seeing my food. 🙂
Breakfast
I felt like something different besides my usual oats one day. I decided to make an omelette with chopped kale, orange bell pepper, and dill. I usually don't like to have eggs for breakfast. For some reason I don't feel satisfied. But not with this omelette. It was delicious and very filling. The orange came from one of my patients who just got back from the winter in Florida. Fresh from the grove – yum!
Snacks
Every Monday, Wednesday and Friday when I'm at work my mid morning snack break always consists of yogurt, usually Chobani. Even on my days off from work, I tend to crave a yogurt at about 10 a.m. The kiddos were having yogurt for their snack so it was safe for me to enjoy my own #ChobaniTime. Pineapple is one of my favorite flavors. I added a very ripe banana and chia seeds to it.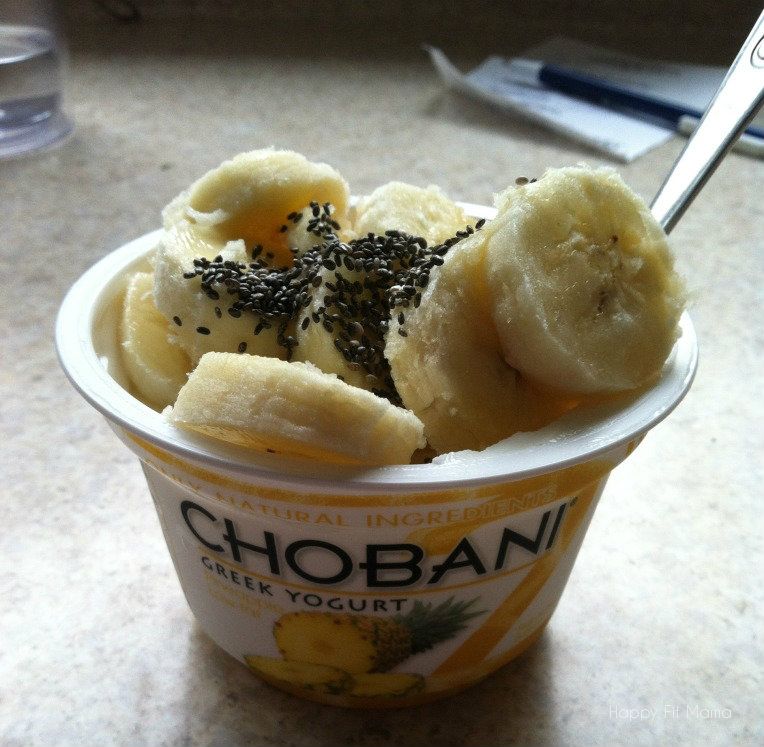 It's no secret that the blog world loves larabars. I've got my own little obsession but I try to save my pennies by making my own version every now and then. This mix is similar to the Cherry Pie flavor. It's a mix of dates, almonds, dried cherries and vanilla.
Lunch
We used to have a great organic restaurant in our area called the Divine Cafe. They had an awesome vegan burger called what else but The Divine Burger. The cafe closed but I was beyond thrilled when I found their burgers in the grocery store. If you live in New England you might be able to find their burgers near you. I satueed fresh spinach and baby bella mushrooms to top it off.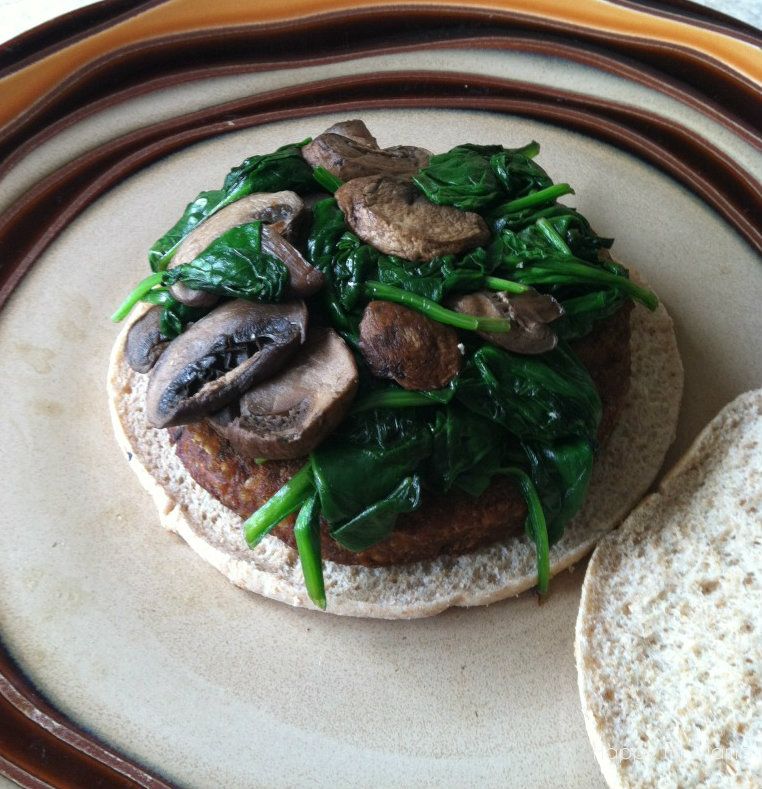 Dinner
I'm one of those people who tears out recipes from magazines. I have a binder that is stuffed full of recipes that I have made many times. There are also a few that I have never made but have every intention of making some day. I'll be the first to admit that the binder is a mess. It drives Ron crazy. This Spring Pizza was one of the recipes that had been on the list to make. It's from Eating Well. It's a basic pizza recipe with fresh asparagus, chives, garlic, olive oil and mozzarella(or Fontina). I had a bunch of asparagus that needed to be used so this was the perfect quick meal to prepare.  I actually had way too much asparagus to top it off with so it's not nearly as pretty as the one in the magazine. It still was excellent! Click here for the recipe.
I just realized that I never shared that I am the featured Mom Blogger on Green Moms Meet! Click here to read all about it!
Have a great Wednesday!