Hi Friends!
It's another edition of What I Ate Wednesday. I'm linking up with Jenn from Peas and Crayons. Thanks, Jenn, for being a fabulous hostess!
Breakfast
I recently purchased my first ever protein powder. I usually don't go for things like that since I feel I'd much rather eat food than drink it. However, I'm finding post hard running workouts, I can't even fathom the though of eating anything solid. I've been making smoothies and chia drinks but I thought I'd try a protein powder, too. I went with Vega in Berry flavor. It's actually quite tasty by itself with water or almond milk. Not chalky like a lot of protein powders can be. After seeing Protein Pancakes up on a few blogs, I thought I'd give it a try.
Definitely not the most pretty pancake you'll ever see (the powder is green therefore the pancakes are green). I had some issues with them sticking to the griddle, too. This stack was what stayed intact. Overall, they weren't bad when peanut butter was spread on top and chia seeds were sprinkled on top. I think they would have been much better with a different flavor like vanilla or chocolate. The berry is a little too intense. Back to the drawing board for protein pancakes!
Snack
I'm loving Zico Chocolate Coconut Water lately. It tastes just like chocolate milk but with the benefits of coconut water.
Another snack that I rarely buy because I eat a whole bag is trail mix. It's just way too good! Bad idea to go to the grocery store after you ran 12 miles in the morning. This ended up coming home with me:
Notice how much is left after only a couple of days? I did let Ron have some at least. Yup, I've got a problem! 🙂
Lunch
My favorite way to sneak in extra veggies into my day is to make a quesadilla. It's also my kids favorite, too. In this mix, I mashed a baked sweet potato on the bottom half of a tortilla and layered black beans, spinach and a little cheddar cheese to melt it all together. The kids love to dip their food so we paired it with salsa on the side. Always yummy!
Dinner
I was really digging Mexican style food this day since we had fish tacos for dinner. We love fish tacos! Every time I make them I think of the beach. My at home version is usually haddock or cod sauteed in taco seasoning spices like cumin, crushed red pepper and garlic. I didn't feel like having mine in a taco shell so I put the fish over broccoli slaw, tomatoes, sugar snap peas, fresh pineapple, and homemade guacamole. So easy and quick to make.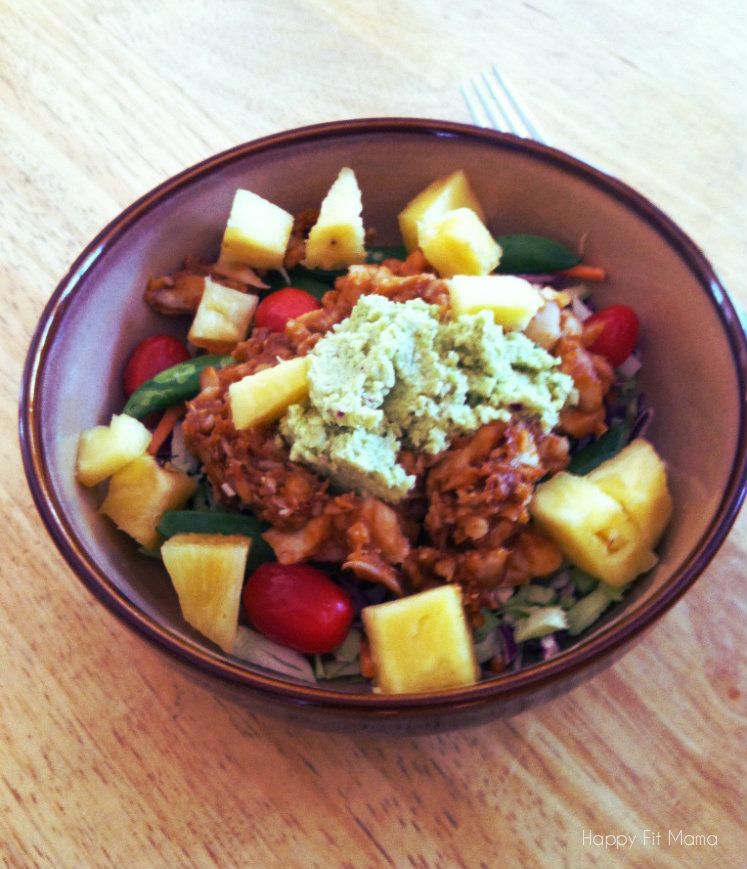 After Dinner Delight
While cruising the grocery store aisles I also spotted something new in the ice cream section. Ben & Jerry's makes Greek Frozen Yogurt! What???
I've tried Banana Peanut Butter and Strawberry Shortcake. Both are delicious! Although, what more would you expect from Ben & Jerry's?
Question of the Day
Do you like fruit flavored ice cream/frozen yogurt? What's your favorite flavor?
Have you done Dolphin Plank today???