Happy WIAW everyone!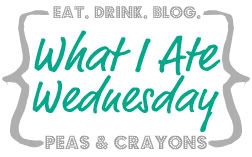 I don't know about  all of you but there are some days/weeks that I just have desserts on the mind. This week is definitely one of those. Oddly enough, I don't want sinful desserts. I'm craving of all things, Bean Brownies! Weird, right?
A few weeks ago I read an excerpt of Ulratmarathon runner, Scott Jurek's, new memoir in Runner's World: Eat and Run: My Unlikely Journey to Ultramarathon Greatness. He not only runs 100 mile endurance runs (and wins) but he is also vegan. His story is really interesting and I have his book on my list to read when it comes out June 5th. It also just so happens that he grew up in the area where I went to college. I have relatives that live in a nearby town as well. I couldn't help being drawn into his story more as he talked about the University of Minnesota, St. Scholastica, the Birkie, and Ashland, WI. All familiar places and events. Plus, I found it very interesting how he transformed into being a vegan after growing up a hunter and fisherman. He not only became healthier for it but a better athlete, too.
I consider myself mostly vegetarian. I do eat chicken, fish, eggs, cheese, and milk. I've toyed with the idea of going vegan for quite sometime. I'm not sure I'm ready right now but maybe one day.
The excerpt also included a recipe for Scott's Chocolate Adzuki Bars. Click here for the recipe.  I've made black bean and chickpea brownies before that have been really good. I had never heard of adzuki beans so I wanted to give it a try.

Here's my modified version using what I had on hand in the kitchen:
Chocolate Adzuki Bean Brownies
1/2 teaspoon coconut oil
1 15-ounce can adzuki beans, drained
1 medium overripe banana
1/2 cup almond or rice milk
1/2 cup light coconut milk
3/4 cup white whole wheat flour
6 tablespoons cocoa powder
3 tablespoons maple syrup
1 teaspoon vanilla extract
1/2 teaspoon sea salt
1/2 cup nondairy chocolate chips [optional]
Chia seeds
Preheat oven to 400° F. Grease a 9-inch square pan with coconut oil. Blend beans and banana with almond and coconut milk until smooth and creamy in food processor. Set aside. Combine the flours, cocoa, syrup, vanilla, and salt. Add bean mixture to flour mixture. Mix till combined. Pour mixture into pan. Sprinkle chocolate chips(if using) and chia seeds on top. Bake for 35 to 45 minutes, until firm. When cool, cut into squares. Makes 16 bars.
Ooeey, gooey chocolate ready for my belly!
You NEED to make these! Hands down the best bean brownie I've ever had. I like the addition of chia seeds. It gives a nice little crunch. Plus, how can you go wrong with Ghiradelli cocoa powder? It's my absolute favorite.
Enjoy!
Questions of the Day
Vegan, vegetarian or total carnivore?
Are you a fan of "healthified" desserts?