Hi everyone! How was your weekend? Mine was full of running bummers. It all started with my long run on Saturday morning. FYI – this is a long one so sit back and relax! 🙂
I met up with my friend, Steph, who I had met a few months ago while running with the CAA running group. She just started her own blog, Run To The Wind City while training for the Chicago Marathon in October. Check it out and cheer her on!
I slept horribly Friday night. Most likely a combination of nerves and heat. The temps and humidity were horrible. I had set my alarm for 4:40 but was out of bed by 4:35. Why was I nervous? It wasn't a race. I had done 16 miles two weeks ago. Another mind game that running does to you!
I knew I had to eat something as soon as I woke up for everything to be settled by go time. I toasted up 2 slices of whole wheat bread with a little almond butter on each plus 3 dates. I also chugged as much water as I could. It was super humid already. Our plan was to meet at 5:30 a.m. to try to beat the heat. As I was driving down to Portsmouth, I saw the most beautiful sunrise over the bay. It was a giant glowing ball of red just above the tree line. I wish I could've stopped to take pictures to share. Sunrises like that make me happy that I'm a morning person!
Steph had 16 miles and I had 18.  We started off on what seemed like a whole tour of the Seacoast. My nerves calmed down as soon as we started running and talking. We refilled our water bottles around mile 6 and I took my first Cliff Shot. I was surprised at how good I was feeling.  I had my new Nathan Hydration belt to keep me hydrated. It holds about 22 ounces of fluid so that was just enough to get me through 6 miles. Even though I ran with the belt 2 weeks ago for 16 miles, it seemed really uncomfortable on this run. My biggest complaint was no matter where it was positioned on my waist or hips, it kept riding up and bouncing. I also wish it had more storage space to hold my iphone. Does anyone have a solution to keep the belt from slipping? I had it as tight as it could go.
Anyway, we started back up again after our brief water refill. Miles 6-11 flew by. Partly because we were down by the beach finally. Not only did we have beautiful scenery but there was a nice sea breeze that seemed to wick away our sweat. At that point, we were both out of water again and were seriously parched. One of the troubles of running so early in the morning is finding places open. We had hoped one of the parks would have a drinking fountain or the bathrooms would be open. No such luck. We continued on weighing our options which weren't many. I finally spotted a hose at a little hotel. We figured why not so we quietly refilled our bottles and drank away. While I waited for Steph, I spied the outdoor pool. I seriously would have jumped in if we didn't have 7 miles to go!
Around mile 12 my right knee started to feel off. I was getting twinges of discomfort with every step on the inside of the knee cap. By mile 13.5 it was getting worse. I stopped running and walked. After a few steps it was feeling o.k. so we started back up again. I immediately got the pain. This is when my mind started to panic. What should I do? Keep running, maybe it will go away? Should I stop, stretch and walk a bit more? Gah!
At mile 14 I told Steph I needed to walk and for her to keep going. I didn't want to hold her back anymore since my pace had dropped dramatically. We parted ways and she continued on strong. I stopped, stretched out a bit and then started walking. My knee felt fine walking so I started running again. The pain returned immediately. For miles 14-16 I alternated with walking/running with more walking. I called it at mile 16 since I was near my car. It wasn't worth getting in the extra 2 miles hobbling and potentially doing more damage. So long story short – No PDR this week.
The rest of my Saturday was spent stretching and icing. Oh, and enjoying a smoothie. 🙂
About mid day I got a tweet from Cheryl saying she wasn't feeling well and she wasn't sure about running Color Me Rad in the morning. We were planning on carpooling to the event just south of Boston. Honestly, I had not even really thought about the race till then. Should I do it? I really didn't have to run it. I'm sure I could walk if need be. Stubborn me was still thinking of doing it till Ron said, "What's more important – a 5k fun run or finishing a marathon?" That sealed the deal. Color Me Rad sounded like it would have been a blast but I want this marathon more than anything. So I decided to back out. I needed a rest day to baby my knees. Which I did with a nice cold ice bath in the Atlantic Ocean Sunday morning. It's feeling o.k. right now but the true test will be when I run on it.
Here's the full recap of Marathon Training Week 8! Hopefully Week 9 will be better.
My main goals for this week:
Strength training – at least 2x hitting the FULL body! Special attention to exercises for the quads and hamstrings.
Ice, foam rolling, stretching after every workout and daily.
I'm linking up with Live, Love and Run as part of the Weekly Chase. I need some accountability! 🙂 Head on over to Amanda to support everyone's weekly goals. She's in party week for her 1/2 marathon!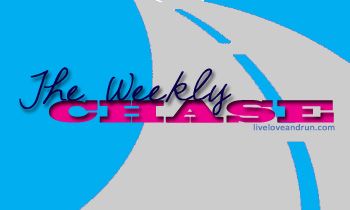 The winners of the Almond Breeze coupons:
#19 Heather H. from Yummy Sushi Pajamas
#44 Nicole from Apples and Arteries
#41 Sarah from Thinfluenced
Please email me (happyfitmama@gmail.com) your address so I can get your coupons out ASAP!
Thanks to everyone who entered!