Hi everyone!
I'm trying something new today just to mix it up a little bit. I'm sure you have all seen a little sensation that takes over a lot of blogs every Wednesday – What I Ate Wednesday. Jenn from Peas and Crayons is the brains behind this lovely idea. I have enjoyed getting ideas and recipes from so many others who participate in WIAW that I thought I'd give it a whirl!
This month the challenge is to get an extra cup of veggies into every meal. Not a problem since this girl loves her veggies. The hardest part about being a part of WIAW? Remembering to take a picture of everything I ate!
Breakfast
Oatmeal with shredded zucchini, cinnamon, unsweetened almond milk, chia, banana, and almond butter. I love mixing zucchini into things. An extra dose of veggies that you don't even notice. It's almost like eating zucchini bread!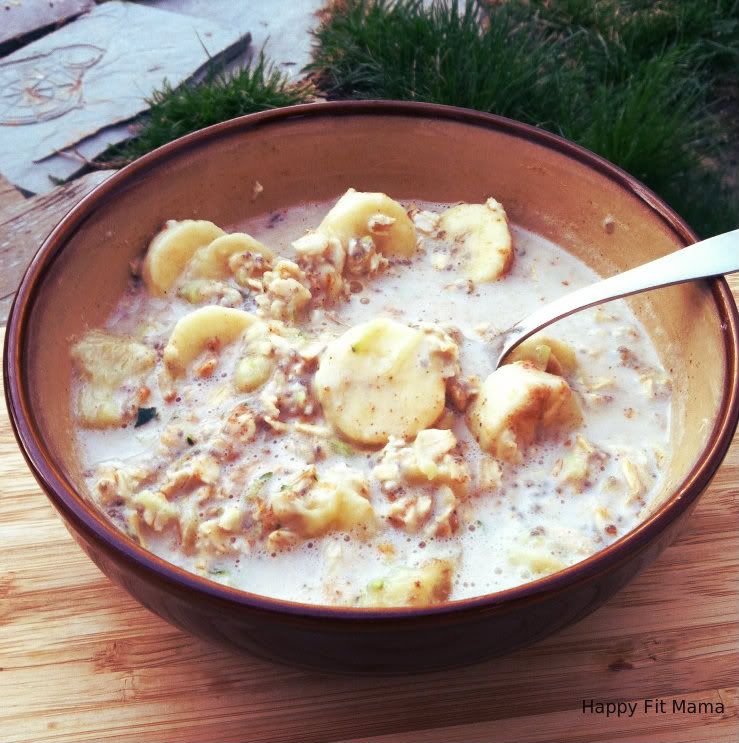 Morning Snack/Drink
Green Tea Mocha Smoothie: Green tea, unsweetened almond milk, cocoa powder, and spinach. It hit the spot after a sweaty morning run pushing the double stroller! I also had half a Gala apple and a few Grain Berry Crackers that went undocumented. 🙂
Lunch
More spinach! Spinach salad with strawberries, feta, cucumbers, poppy seeds and a splash of apple cider vinegar.  I usually don't like to get strawberries outside of the summer because they are white and tasteless. This batch of strawberries is perfect!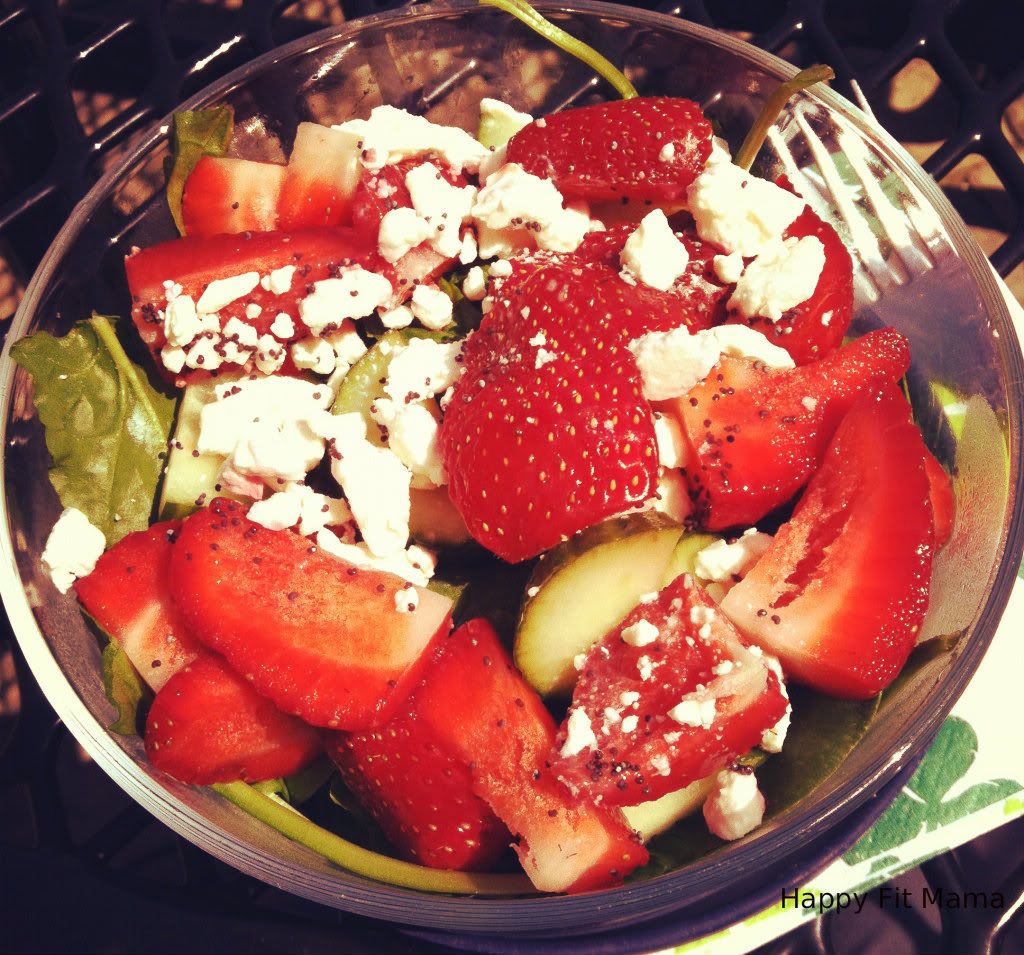 Afternoon Snack
Black Cherry Chobani. This is actually part of Ron's stash of yogurt. Doesn't everyone has his and hers yogurt? I ran out of mine so I stole one of his. (Shhhh! Don't tell!) Not my favorite flavor (Blood Orange is outstanding!) but it's Chobani so it's all good! I can't eat any yogurt and enjoy it in front of the kids. As soon as they see it, they want it. I'm all for sharing but dividing one small container of this yummy-ness between 3 people? I'm either hiding in the bathroom or waiting till nap time to savor it all for myself!
Dinner
It was such a beautiful day out that after the kids woke up from their nap we immediately went back outside. Making dinner was the last thing on my mind so we walked down to one of our favorite local restaurants, Dos Amigos. I could eat every meal there. So delicious! My favorite is the Sweet Potato Burrito in a bowl. It's essentially a burrito without the wrap. Black beans, brown rice, lettuce, mashed sweet potatoes, their own homemade hot salsa and sour cream drizzled on top. I've tried to replicate this at home but I just can't get the right flavor of their salsa. It's very garlicky but so good!
After Dinner Treat
Reese's Peanut Butter Egg. I stocked up on some eggs during the after Easter clearance at Target last week. I'm surprised we still have any left. Ron and I are both serious chocolate and peanut butter fans. Does anyone else think the eggs and Christmas trees taste better than the cups? There's just something that makes it a little bit more yummy.
Phew! I survived a WIAW! It was kind of fun to document my eats for the day although I don't think I could make it as a food blogger. I have a tendency to dig into my food as soon as it's ready!
Enjoy Wednesday!
P.S. I'm kind of obsessed with Instagram and Tweegram now! You can follow me @happyfitmama. Just a warning – I take a lot of pictures of cute kids and dogs! How did I ever live without Instagram??