Hello to all!
I'm so happy it's Friday. Does anyone ever say they are sad it's Friday? I guess if it's your last day of vacation then that would make it a sad Friday. Wow! I really have deep thoughts some times. 🙂
Training Plans
My training for Wallis Sands 1/2 Marathon is winding down. The race is 2 weeks from Sunday. I've got 11 miles planned for Saturday with the Coastal Athletic Assoication/Runner's Alley group again. I know I've said it before but I am so HAPPY I decided to link up with them for long runs. It's made a huge difference in how I feel about running.  I've always loved running but to be able to connect with people who have the same love is awesome. Ron can only take so much talk about long runs, compression socks, and refueling! 🙂
I've started to look ahead and have begun researching options for training plans for the Smuttynose Marathon.  I'm using a SmartCoach plan right now from Runner's World and have really liked it. I have also done a Hal Higdon plan before. Both are good but I'm kind of biased towards the SmartCoach plan. I did PR with it in November after all! I want a plan that allows for 3-4 days of running with a mix of tempo, speed, easy and long runs. All the fun stuff! I'm open to suggestions so please share what has worked for you!
Look what I recently purchased…
Can you tell I was a little excited to open up the package? I was like a little kid on Christmas morning!
I finally broke down and ordered a new pair of running capris. After this scene it was a dire situation that required Lululemon to save me! After asking for help on Twitter, I decided on the Run:Excel Crop. As soon as I put them on I was SOLD!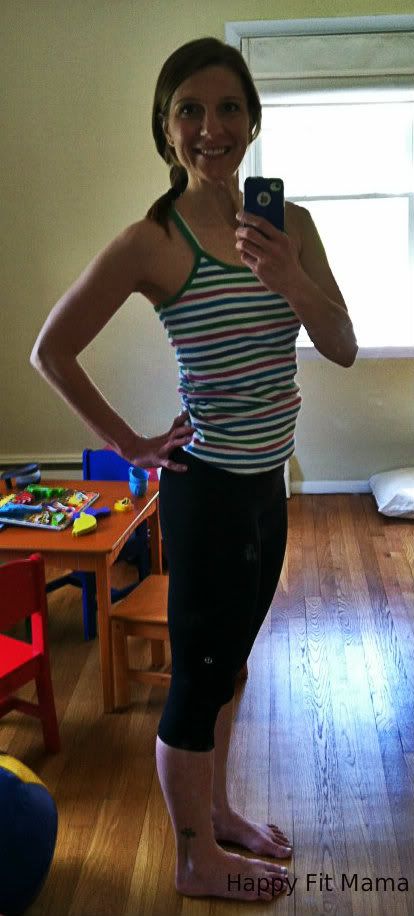 Seriously worth every. single. penny! The fit is great and very flattering. Not once while wearing them running have I had to pull them up or readjust. This has never happened with any pair of tights or capris that I have owned. Perfect! Now the question is, what should I buy next???
Headstand Pose Challenge?
Last week I posted about my intention to conquer Headstand Pose. From the comments received, I realize a lot of people are chasing that same dream. That got me thinking. Would anyone be interested in a Headstand Pose Challenge beginning in May? Each week would have a focus to prep for Headstand (i.e. Week 1: Plank, Week 2: Boat Pose, Week 3: Tripod, etc). I think it could be a fun challenge for us all that will hopefully result in everyone conquering Headstand!
Questions of the Day
Any suggested Marathon Training Plans that have worked well for you?
Are you interested in a Headstand Challenge??