Happy Marathon Monday everyone!
I'm setting this to publish in the early hours of the day so the race hasn't even begun yet. Did you hear about B.A.A. offering deferment to 2013 to all runners because of the forecasted heat? I can see how some people would accept the deferment. It is highly unusual for the temps to be that high in April in New England. However, I think if I was running, I would still race. But I would be smart. Change my pace expectations and hydrate, hyrdate, hydrate! We don't need a repeat of Chicago from a few years ago. I really hope everything goes smoothly for the organization and all runners. Please be smart athletes!!
Saturday Preview Run
I had high hopes for running on Saturday. I met up with the Coastal Athletic Association running group to run the course for the Wallis Sands 1/2 Marathon. My goal was to run the full course.
It was an absolutely perfect running day. Temps were in the low 50s, blue skies and sunshine. There was a slight breeze, too, but that seems to be the norm around here lately. We met at the parking lot of Wallis Sands. There was a group of 20+ people that were ready to go.
Stephanie, who I met last week for the first time, was already there. There were 2 options of courses to run: 9 miles or 13.1. Water/Gatorade/Gummie Bear stations were set up along the course in multiple spots. We started off at a great pace. I met  some great people and we chatted the whole time about running, races and our lives. I even met a guy who's wife grew up in Marquette, Michigan (I did my internship at the hospital there). It was quite funny that he described it as "A little town that I probably didn't know where it was." Ummm, Marquette is the biggest "city" in the Upper Pennisula with about a population of 30,000. Ha ha! : )
At the first water stop I had water. I wasn't really feeling the need to eat anything but I had a couple of Gummie Bears (they are very hard to resist!). Ironically, we all started discussing how our stomachs can't handle GU and other fuels. Another runner (If you are reading this – sorry I can't remember your name!) had Honey Stingers in Pomegranate flavor. I was a little hesitant at first to try one because I didn't want my stomach to go all bonkers on me.  But I did. I was also a major bonehead and forgot to restart my Garmin when we moved on! I didn't realized this until at least 2 miles later. Gah!
We continued on at a great pace. I was feeling good except for my left foot. I had developed the beginnings of a blister on the bottom of it on Friday. For some reason the socks I had worn to work did not work with my shoes. Old socks and old shoes that have been worn together many times before. My feet did feel hotter than normal all day so maybe they were extra sweaty? It wasn't a horrible feeling at that point but I could tell it was there.
I usually don't carry any water with me when I run alone. I've always gotten along just fine without it even during the summer. I noticed I was really, really thirsty during this run. Stephanie commented that she felt it more so than usual, too. Thankfully, there was another water stop around mile 7 or so. I chugged 2 glasses and had a few Annie's Organic Fruit Snacks. We pushed on. At this point my foot was really becoming painful. Every step felt like sandpaper was being scrubbed across it.
We were getting close to the turn for the 9 mile route. To continue on for the 13.1 miles it made a big loop around the marsh so this was the last way to get back to the parking lot. I made a decision to cut the run short. I really wanted to keep going. My pace was great! We averaged between 8:11 and 8:24. The conversations kept my mind occupied so the miles flew by. But I didn't want to end up with a nastier blister than need be just to do the full course.
It turned out to be a very wise decision! As I ran into the parking lot, I felt the beginnings of 'rumblin' in the tummy.' Oh-oh! I quickly stretched a little, sipped on some Nunn and enjoyed the beautiful scenery before getting in my car and hurried home.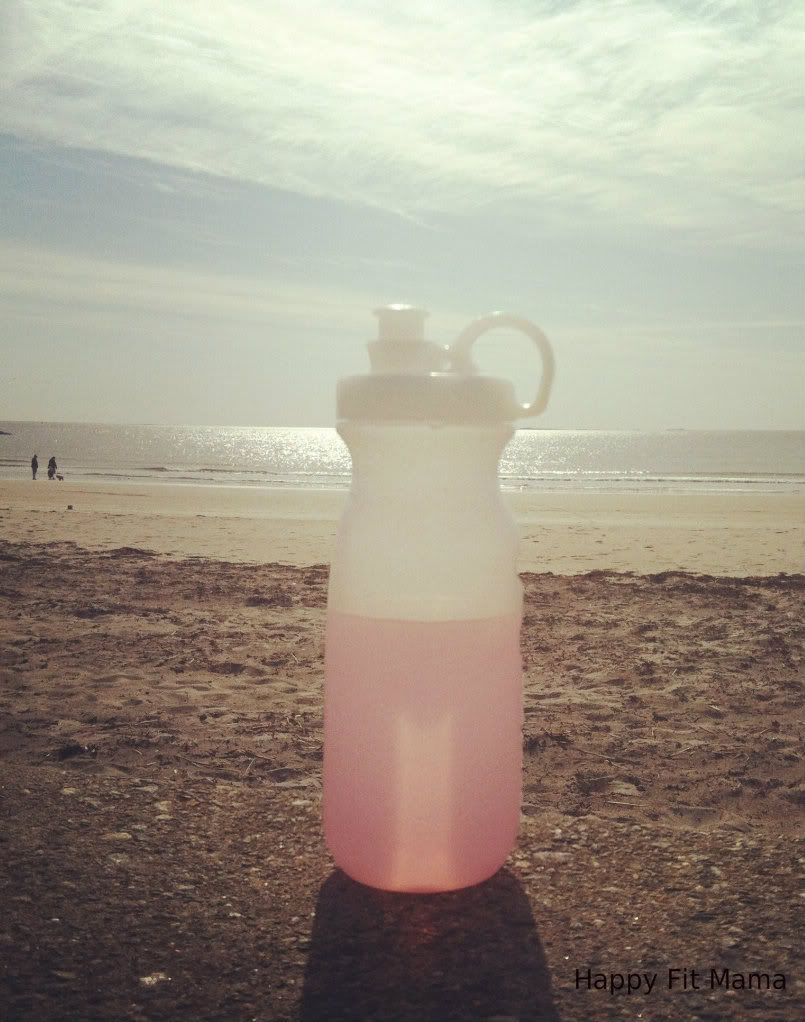 I'll spare you the details but I wasn't feeling good all day! Not fun! It's reassuring that it does happen to all runners occasionally. On top of the tummy thing, I also ended up with a wicked headache. Dehydration, maybe?
So I'm now questioning what caused my tummy trouble. Was it the Gummie Bears? Honey Stinger? Fruit snacks? What I ate for my pre run breakfast? Or a combination of everything? Ugh! This trial and error thing is for the birds!
On top of everything else, my phone decided to get all funky on me so I could only take a few pictures. WTF? Of course, when I got home and had Ron look at it, he fixed it in 2 seconds! Goes to show you not every run can be full of unicorns and rainbows. 🙂
Question of the Day
If you were running Boston this year, would you have run or deferred to 2013?
Any funny stories about the unpleasant side effects of running?