Happy New Year everyone!
We had a very low key New Year'sEve. Ordered Chinese and sushi, watched "The Five Year Engagement" and were asleep by 10:30. Boom! My younger self is laughing at me but I like it this way much better.
My one intention for the first day of 2013 was to see the sunrise on a run. I've gotten rather used to running in daylight hours the past 2 weeks. This was going to be the last weekday one so I wanted it to be extra special. I woke up starving so I grabbed a couple of Coconut "Cookie Dough" Bites that I made on Monday.
These bites are amazing! They're similar to my usual balls with the base of walnuts and dates except that you process the walnuts and dates separately before combining. It makes all the difference in texture and "doughyness." That's a word right? They gave me just enough gas in the tank for my run.
I started off with no real intention of where I was going. I knew I wanted to find a spot that would be higher up and clear to really see the sun.
(Please excuse the portrait screen. I was too excited to think about how I was holding my phone.) 🙂 I got it. The money shot. Absolutely gorgeous! I ran 7 wonderful miles and wanted to do more. Plus, I found 28 cents. A sign, perhaps, of fortune for the year? 🙂 Great start to the year. Only 1,493 more miles to go to reach my goal of 1,500!
Once I got home, I quickly stretched, slurped down a kale protein smoothie and showered so we could head outside to play in the snow. Last year, it was a very mild winter. We didn't have much measurable snow. The one time I took the kids out in it we lasted 5 minutes before major melt down status was achieved. They hated it. What a difference a year makes. They absolutely LOVE the snow! We've been having fun sledding down our little hill in the backyard, making snowmen, using our beach buckets and shovels, and moving the snow with dump trucks. They find it fun just being outside. It's amazing when we get older we start to get bored and lose our imaginative play. Another lesson my kids have taught me. Open your mind and have more fun!
And I did! The big "kids" had to have their fun, too. In fact, I think Ron and I had more fun tubing than they did. That's my "woohoo!" face by the way.
We were famished for lunch after all the fun and fresh air. Just an FYI – running and then tromping through the snow is exhausting and makes you ravenous! Thankfully, we had an abundance of leftovers from our NYE take out. I also kept dinner simple with roasted salmon and carmelized leeks.
California Rolls, hummus w/ yellow peppers and carrot chips, Avocado mac and cheese, hummus sandwich w/ carrot chips and applesauce (part of the kids lunch), salmon w/ carmelized leeks.
I think we'll be spending a lot of time outside this winter. My snow pants, hat and mittens are my new staples. For someone who is not a fan of being cold, this could be interesting. But the kids enjoy it so that makes me happy. And it keeps the cabin fever crazies away!
I'm linking up with Jenn for more WIAW.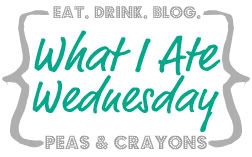 How did you spend your New Year's Day?