Hi everybody!
My internal alarm clock went off at 5 a.m. as usual. Except today I did not want to get up and run. I was sleepy! I was up way later than usual (10:30 pm!) last night. I blame Peas and Crayons for tweeting about Words With Friends. I couldn't resist adding another person to play against! 🙂
It's Tempo Thursday again! Even though I wasn't fully awake when I started my run, I quickly got into it. I love doing tempos! I actually like doing tempos and speed work on the treadmill although I'm trying more to find out by feel what my exact pace is. It's a lot harder than it seems. I find that the times when I feel like I'm running slow, I'm actually running at a good pace. Does anyone else have that happen to them?
When running on the treadmill it's a matter of survival. I get bored so I have to mix it with the speeds. I also get the mentality that the faster I run the sooner I'll be done. Whatever works, right?
Here's what I did today:
| | |
| --- | --- |
| Distance (miles) | Speed (mph)/pace |
| 0-1 | 6.5 – 6.7 |
| 1-2 | 7.2 (8:20) |
| 2-3 | 7.3 (8:13) |
| 3-4 | 7.4 (8:06) |
| 4-4.5 | 7.6 (7:54) |
| 4.5-5 | 7.5-7.0 |
I did 5 miles in about 43 minutes. I'm not too sure what the exact time was since I pulled the emergency stop cord by accident.  Whoopsie!
Post run I was a sweaty mess but I made it a point to stretch. I love doing a few yoga moves post run.
New Gear
Last week I finally bought my first pair of compression sleeves. I wasn't sure what brand to buy. After asking around I decided to go with CEP.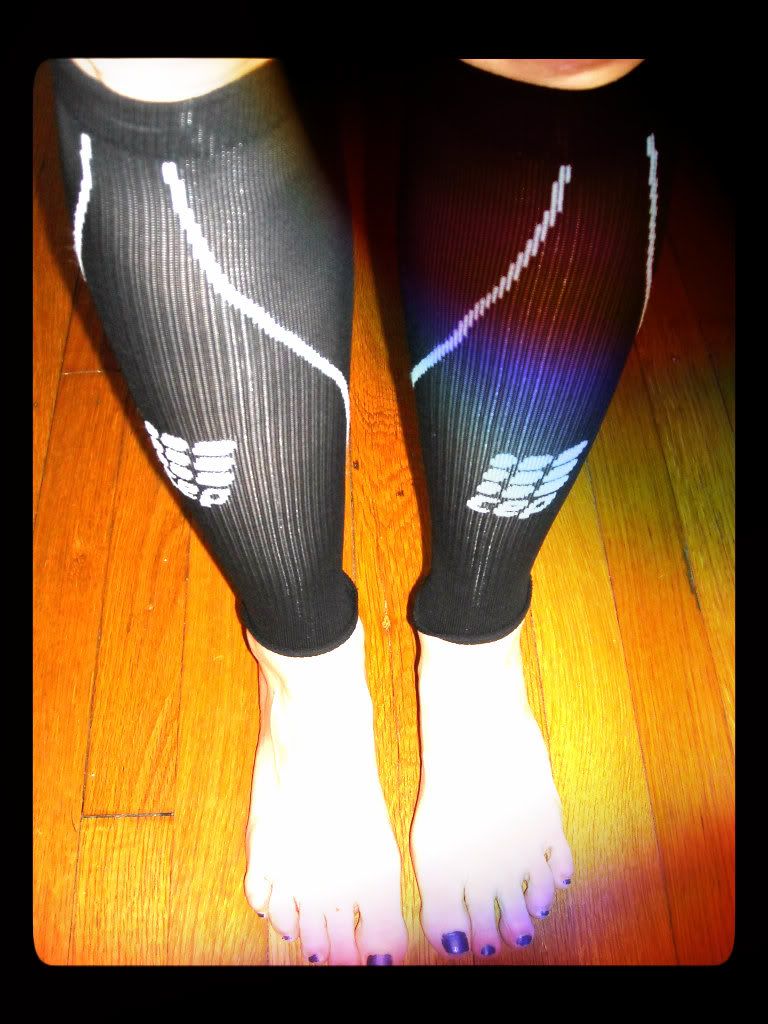 It seems like that was the overall favorite. I haven't run in my sleeves yet and am not really sure if I have a need too. I've never had any issues with calf discomfort while running. I do get wicked calf muscle soreness. I've been wearing my sleeves post runs for a few hours and have noticed a slight difference in recovery time. I might start wearing either the sleeves or full compression socks (I ordered a pair yesterday) to work. I spend the majority of the day on my feet at work. Lately, my calves and feet have been so tired and tight at the end of the day. I'm hoping the socks will help. Since a large portion of my patients wear compression stockings, I figured I'd give in to peer pressure! 🙂
Brownies!
I did a little experiment in the kitchen that turned out surprisingly well. I had made a Sweet Potato and Black Bean Quesadilla for the kids and I the other day. I didn't use all of the beans from one can. I wanted to do something fun with the leftovers so I decided to make brownies with them. I've made baked goods with beans before so I just started playing around with what I had on hand. Now don't be turned off by the ingredients. You can't taste the black beans at all. If you do, you did something horribly wrong! The great thing about brownies that have black beans (besides being much better for you nutritionally speaking)? You won't eat a whole pan because – hello! There's black beans in there and we know what happens when you eat too many beans. *insert Beans, beans the magical fruit song!* 😉
Black Bean Brownies
15 oz black beans, rinsed and drained
2 bananas
1/3 c pure maple syrup
1/4 c cocoa powder
1 Tbsp cinnamon
1 tsp vanilla
1/2 c chopped walnuts
1/2 c oats
Preheat oven to 350* Grease or spray 8 x 8 pan.
Run oats through food processor till it resembles instant oatmeal. Remove from food processor and place in a separate bowl.
Combine beans, bananas, maple syrup, cocoa powder, cinnamon, and vanilla in food processor. Blend till smooth.
Add ingredients from food processor to oats. Stir. Add walnuts. Stir till combined.
Pour batter into prepared pan.
 Bake 30 minutes.
 Cool completely before cutting.
*You may need to add more sweetener of your choice if your bananas aren't really ripe.
If you like fudgy brownies this is for you. I'm not a fan of cake like brownies so these fit the bill perfectly. Enjoy alone or with a cold glass of milk! Mmmmm!
Last day to enter the giveaway for Annie's Organic Pizza! Click here to enter. The entries are very low so you have a great chance of winning a yummy pizza!
Questions of the Day:
What's your favorite run of the week – easy run, tempo, speed, long run?
Do you own any compression gear? Do you think it works?
Cake-like brownies or Fudgy?