Hi there!
Happy Monday! Did anyone else overindulge in chocolate bunnies and jelly beans? I may have had my fair share of these super cute Vegan Sugar Cookie Cutouts Bunnies and Carrots. Yum!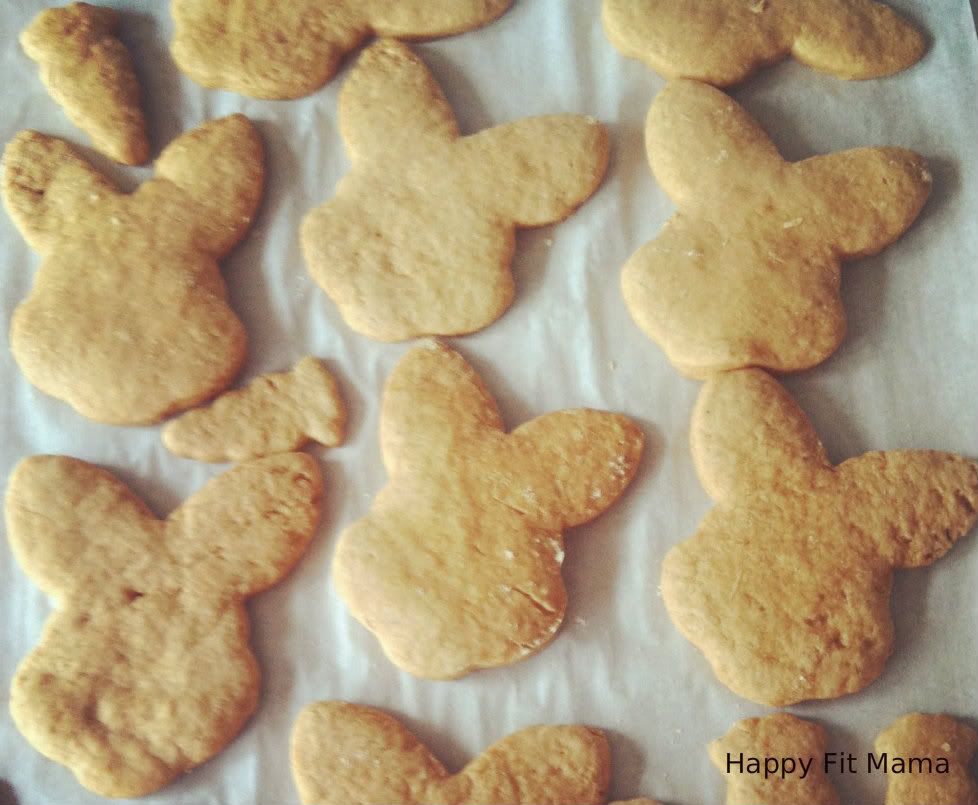 Note to self: Don't let the kiddos split a frosted cookie before nap time! It took an hour for them to settle down! Even when it was bedtime 6+ hours later they were acting really silly!
Today's a new day and my body is actually craving veggies and the usual food I'm used to. Give me some spinach ASAP!
Did you take part in any Easter Egg Hunts? We did and I don't think we'll ever do another one again. I won't go into details but I'll just say that the children, ages 1-3, had better manners than the parents. Is pushing and arguing really necessary over plastic eggs filled with jelly beans? Not fun and very disappointing!
10 Miles with Friends
Saturday morning I convinced my friend Erika to come with me to Runner's Alley and participate in the weekly running group.This time I was a good blogger and remembered to take pictures in between all of our chattering!
I had 10 miles on tap for the day. Erika wasn't sure she could do the whole 10 but wanted to give it a try. We met the group at 8 a.m. outside of the store. It was a fairly large group of maybe 20 people of all different abilities and ages. It's usually bigger but there was a local 1/2 marathon that day. The distance options ranged from 4-8 (or more) miles. The route ran right along the shoreline in New Castle predominately.
I've run the New Castle loop many times (it's one of my favorites!)but this was the first time I ran along some of the small side roads. Very pretty New England style homes and the smell of the ocean.  Perfect running!
 We even ran on the beach for a short distance. Thankfully it was low tide and it was hard packed sand.  Just before mile 6 I started to get a stitch in both sides. I knew an aid station had been set up a short way up the road so I pushed on. Once at the aid station I chugged a couple of glasses of  water and some Annie's Organic Fruit Snacks. My stomach had been growling since mile 2. I'm not sure what was up with that. I had a decent breakfast of 2 pieces of Blueberry, Walnut and Banana Bread with honey and plenty of water. Sometimes my body burns through food so fast. I could eat this tomorrow and go for a run and it would be fine. I might need to look at what I eat the day/night before to find the answer.
When we started back out, one of the other runners decided to join us. We started talking and it turns out she's an Exercise Physiologist who has worked in Cardiac Rehab! She recently graduated from PA(physician assistant) school and is now working for a local cardiologist that Erika and I both deal with daily for work. Small world!  Stephanie was a great addition to the conversation and was game for doing additional 4 miles with us. We chatted the whole time and the last miles flew by. Even going up a very steep hill didn't slow us down.
We finished the 10 miles in 1:26 with an average pace of 8:40. Erika did great. I knew she could do it! No tummy issues to report with eating the fruit snacks at mile 6. They tasted good, were portable and easy to chew while running. A possibility!
I'm so glad I finally linked up with a running group. Next weekend they are actually doing a run through of the Wallis Sands 1/2 Marathon course with an option of 9 miles or the whole course. I'm definitely going to try to make it. I'm not sure if I'll do the 9 or 13.1. We'll see how I'm feeling closer to the date.
"Obstacles are those frightful things you see when you take your eyes off your goal." – Henry Ford
Have a great Monday!
Questions of the Day
Did you participate in any Easter Egg Hunts? Please tell me they all aren't like the one we attended!
What makes a great running route?
Do you prefer to run alone or with friends/group?