Hi all!
Happy Friday! How is everyone doing on getting in Dolphin Planks every day?  I'm doing o.k. I've been trying to squeeze a few minutes in first thing in the morning and at the end of the day. On Monday we'll be adding on another prep pose. Keep up the good work!
Race Day Outfit
I'm a firm believer in getting a new outfit when running a big race. It's a special occasion so why not? You'd buy a brand new dress for an important event, right? Last weekend I went to the new Lululemon showroom that opened up in our little town.
Happy Fit Daddy was grimacing in pain when I told him the news. 🙂 First off, I love the Lululemon showrooms. So cute and cozy! It's not a big box store so you get plenty of attention from the employees if you want it. Second, I have to say I want one of everything. I'm already in mad love with my Run: Excel Crops so I knew I needed to indulge in some more Lulu love.
I could have spent way more but I ended up with two items I have been wanting for a very long time. The Run: Pace Setter Skirt and Run: 1/2 Zip.  I'm not sure what I'll be wearing exactly for the race since the forecast is calling for Partly Cloudy with temps in the upper 40s-50s. Here's what I have planned for potential outfits: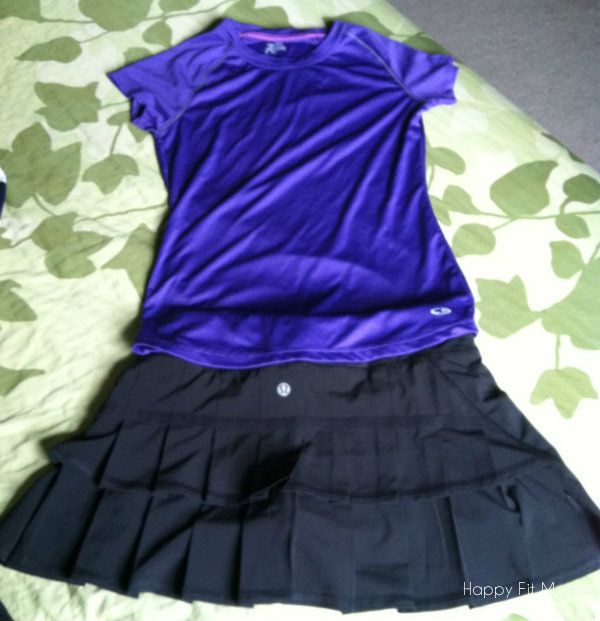 Option 1
Option 2
I may also take the short sleeve C9 shirt and pair it with the crops or the 1/2 zip with the skirt.  Hmmmm…decisions, decisions.
On the day that I was shopping at Lulu, it was their grand opening weekend so they had all of their yoga ambassadors doing 30 minute classes throughout the day. Of course I stuck around to enjoy some time on the mat. It was a great class that felt oh so good after running 12 miles a few hours earlier. We all got up close and personal with each other since it was a tight space. I had a person on my left and one on my right. During one pose we extended our arms wide out to the side. Let's just say we moved right to second base without any formal introductions! Ha ha! 🙂
I usually am pretty secretive about what my goals are for a race but I'm going to put it out there: I wan a PR! I'm aiming for 1:50. My previous 1/2 in November was 1:53. I feel like I've trained better and harder this time around so it might be a possibility.
Wish me luck! See you at the finish line! 🙂
Questions of the Day
Which outfit do you think I should wear?
Do you put your race goals out into the universe or do you like to keep them to yourself?