My day started at 4:44 a.m.  It's disgusting that I don't need an alarm to wake up that early.  My brain is just programed to function that way.  Surprisingly, for waking up so early I don't need to drink boat loads of coffee to get moving.  In fact, I rarely drink coffee.  I told you, I'm strange!
On tap for the workout of the day was a lovely speed workout.  I prefer to do my speed runs on the treadmill.  It's easy to just program the speed into the console and go.  A track is good, too, but all the ones in my area are covered in snow at the moment.
Here's what I did:
| | |
| --- | --- |
| Miles | speed (mph) |
| 0 – 0.5 warm up | 6.5 |
| 0.5 – 1.5 | 7.6 (7:54 pace) |
| 1.5 – 2.0 | 6.8 |
| 2.0 – 3.0 | 7.8 (7:42 pace) |
| 3.0 – 3.5 | 7.0 – 7.5 |
| 3.5 – 4.0 (cool down) | 7.0 – 6.5 |
I think I may need to bump up the speed a little more next time.  During the first 1600 I didn't feel like I was being pushed.  I increased the speed a bit for the second 1600 and that was a little more challenging.  Next time I'll start at a 7:42 pace.
It's amazing what you can get accomplished when you wake at 4:44 a.m.  I had a speed workout in, showered, dressed, refueled, made oatmeal for the kiddos, answered emails, surfed blogs, put a load of laundry in all before 7 a.m.!  Boo-ya!!
New Toys for Tots
It's amazing what my kids can get into in.  I was in the bathroom, with the door open, for less than one minute and look what I came out to: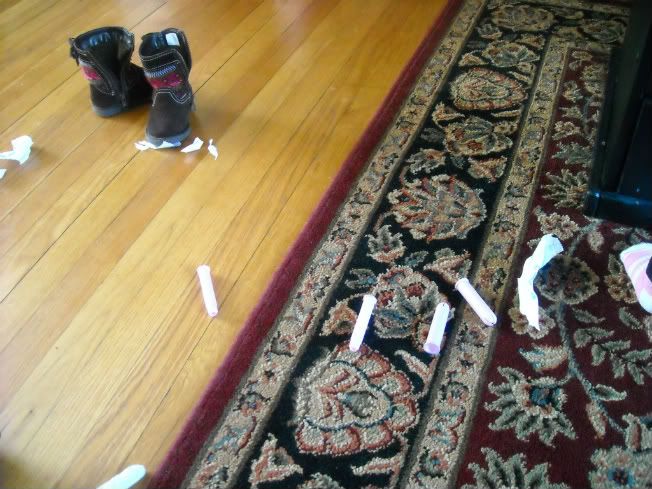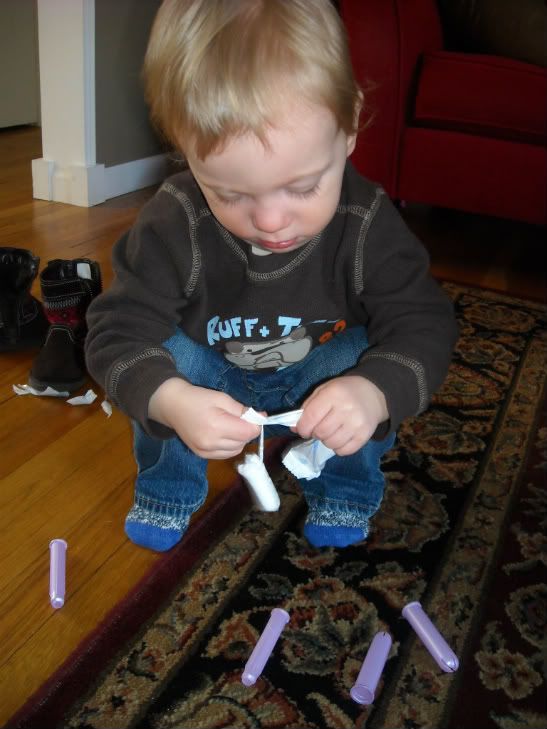 Yes, those are tampons or crampons as Ron likes to call them.  The little monkeys were digging around in my purse and found new toys. It was quite funny their reaction to actually getting the cotton part out from the applicator.  Swinging tampons around is very entertaining to a 20 month old.  I should just buy them each a box of Playtex to play with and we'd have quiet time for hours! 
It's an absolute gorgeous day here in New Hampshire.  60 degrees, blue sky and bright sunshine melting away all the snow we got last Thursday.  Remember this is what I saw last Thursday. We played outside before lunch and we'll be back out there again after nap time.
Hope the sun is shining where you are!
Where do you prefer to do speedwork?  Treadmill?  Track?