It's been awhile since I talked about what my two little ones have been eating lately. I'm linking up today with Munckin Meals to share some of their recent eats. I think the last time I did share, we were going through a super picky phase where what used to be a favorite was now the worst tasting food ever. Vegetables? No thanks. Thankfully we grew out of the period fast. In fact, the other night I tried giving each kiddo a small bowl of salad at dinner. My little guy, L, when nuts for it. He had two bowls! Woohoo! However, A, wanted nothing to do with it. She has begun to like carrots so that's a win in my book. I'm sure next week salad and carrots will be the grossest thing ever.
Breakfast usually consists of cold cereal with fruit. They're huge fans of Trader Joe's "Joe's O's" and granola.
Peanut or almond butter sandwiches are usually the first request for lunch. Back when they were younger I was able to add shredded carrots or zucchini to it but that's a no-go now. I still try to add a little fruit and veggie to their plate for each meal. We had just got a sample of the new Sprout Organic Fruit Chews so they each got a taste. (See below for a chance to win your own prize pack!)
Dinner is usually rough. Sometimes they'll devour everything. Others, it's two bites and  done. This meal of organic spinach and garlic chicken sausage actually went over well with L but A only ate the fruit.
I try not to stress about what my kids are or aren't eating. I continue to offer their usual favorites while still introducing new foods. If they reject it, I'll try again later. If they only nibble on their food one day, I know they'll make up for it the next. One thing I've learned is that the toddler palate is picky and changes by the minute!
As I mentioned above, we were recently sent a sample pack of new snacks. I'm thrilled to be working with Sprout Baby and Toddler Food as part of their Sprout Social Influencers program. When my kids first started eating solid foods, we used Sprout fruit and veggie pouches for easy portable meals. As any Mama of a three year old knows, you NEVER leave home without a bag full of snacks. I usually bring along homemade nut balls or fresh fruit but I'm loving Sprout's new Fruit and Veggie Crispy Chews and Fruity Yogurt Bites.
Made with organic fruits, veggies, whole grains and proteins, I know that my kids are getting good stuff that doesn't have any added junk. Plus, if I can get a little extra serving of veggies in them, it's a win in my book.
The Crispy Chews smell wonderfully fruity. It's like eating dried fruit but with an added dose of veggies and whole grains. I even tasted them to see what they were all about.  Yum!  I bet they would make great fuel for a long run. Hmmmm…might need to hide a pouch to try that soon.
The Fruity Yogurt Bites were just as good. The pumpkin really did taste like pumpkin and not an overly processed sugary mess!
Sprout would like to giveaway the same sampler pack that I received to one lucky HFM reader.  The sampler pack includes four Fruit & Veggie Crispy Chews and four Fruity Yogurt Bites.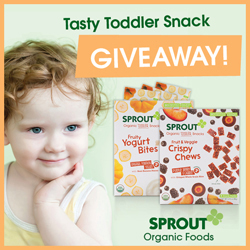 #spon: I'm required to disclose a relationship between our site and Sprout Foods. This could include the Sprout Foods providing us w/ content, product, access or other forms of payment. Check out the new Sprout Foods website at www.sproutorganicfoods.com.