Hi everyone!
Another week in marathon training is in the books. Eight weeks to go before the big day. Yikes!
This was an easy week so I fully embraced the lower mileage and rested my legs as much as possible. As I mentioned in Friday's post, I've been spending way too much time on the treadmill. I'm hoping this week I'll be able to get outside more. It makes such a difference in my attitude and motivation. I've also thought about splitting up my longer weekday runs – maybe run 4 in the morning on the treadmill then 4 more in the evening outside. I would just make sure that one was an easy run. Anyone have experience with two a days like that for marathon training?
Here's the run down on my workouts from the week:
Sunday: Absolute rest! It was my birthday after all. 🙂
Monday: 6 mile easy run + strength training
Tuesday: 7 mile easy run + yoga
Wednesday: 50 minute bike trainer + yoga
Thursday: 7 mile easy run + yoga
Friday: Strength training
Saturday: 7 mile easy run
No marathon training vlog this week since there wasn't much to talk about. Instead I'm linking up with my friend Brian, aka Pavement Runner, for a little fun.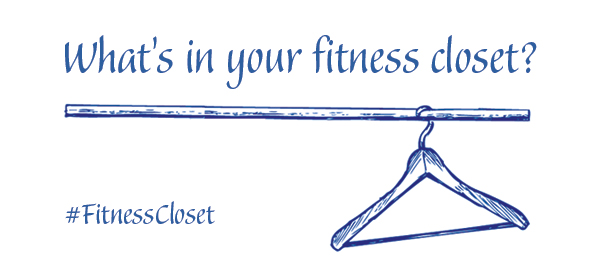 I'm not going to show you my actual closet and dresser drawers of workout clothes because it's a complete mess. I try to keep everything neat and folded but for some reason tech material does not stay that way (note the wrinkles in the pictures below!). At least that's my excuse. 🙂
I really didn't think I had a lot of workout clothing until I started pulling it all out.  I actually got rid of a bunch of things that were well past their good years in the proces. Stained shirts, dry rotted waist bands. Why do I hold on to it? I'd have to say I'm the worst about keeping race shirts. They all mean something to me!
Let's start with the tops.
My favorite jackets are from Nike. They fit right. Have just enough pockets and are warm for the spring/fall/winter runner or other outdoor activities. I hemmed and hawed about my favorite 1/2 zip for weeks. It's from lululemon and cost more than I'd usually spend on a running shirt. But I'm so glad I did. It's worth every penny plus I get lots of compliments when I wear it.
I'm not picky when it comes to workout gear. If it's cute, functional and fits right, I'll wear it. My favorite tops (tees, long sleeve, and tanks) are from all over – lululemon, Oiselle, C9 brand from Target, EMS, Mizuno, Athleta,Nike and Isis.
Not pictured above are all my race tees. I know some people never wear their shirts but I do – a lot!
Now for the bottoms.
CEP compression sleeves and ProCompression socks are my best friend when it comes to prepping for a long run, recovery or keeping my calves and feet fresh at work.
My taste in tights, pants and capris varies. Again lululemon and Athleta are favorites not only for pants but also running skirts. Their fit is the best for me. But I also like the Gap's athletic line. Obviously I like black bottoms too. 🙂
When it comes to running shorts, without a doubt my favorite is the Nike Tempo.
And of course there's the shoes too!
 Mizuno, Brooks, Saucony, Reebok – I've loved 'em all at one time!
My closet also contains my headlamps, fuel belts, water bottles, Garmin 405, hats and mittens.
Now it's your turn – What's in your fitness closet?
Feel free to play along on twitter with #fitnesscloset, your own blog post or in the comments below!