Happy Valentine's Day!
Do you celebrate this day?  I don't really get into it to much.  But I do enjoy getting flowers!  They seem frivolous but they make me smile.  Thanks Babuz!
We also got Valentines yesterday from the kiddos.  They did a special project at day care for all the Mama's and Daddy's.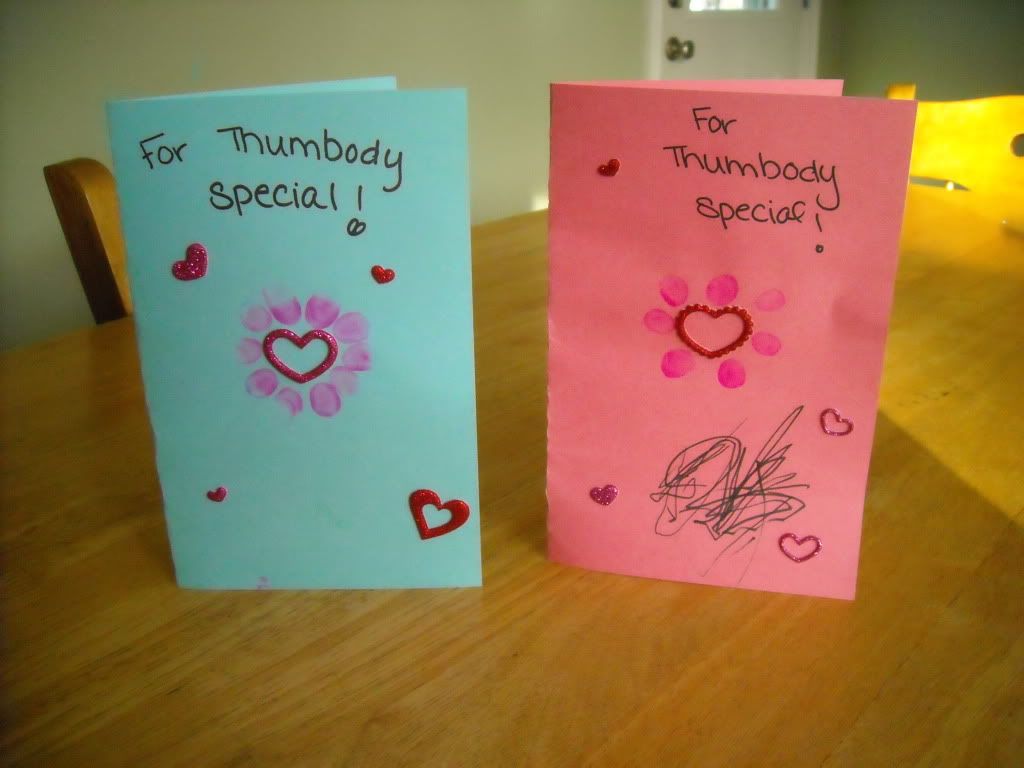 They used their thumbs to make prints around the heart.  How cute!
Workout – Ever have one of those days when running is just not going to happen?  I love running but this morning I just couldn't get into it.  I forced myself to run at least 1 mile to see how I felt after that.  No change.  So what did I do?  I walked.  I varied the incline for some serious hill climbs.  I at least got  four miles in.  I did something and that's better than nothing in my book!
Homemade Larabars
Recently at work we were discussing granola bars.  I said I loved Larabars.  Our intern, who is 21 years old, said, "Yuck!  Aren't they made of prunes? I had one and spit it out!"  Prunes, dates?  There all the same, right?  This is also someone who gave her brother prune juice and Depends for his 30th birthday.  Ah, youth!  I remember being 21 and picky about what I ate.  I had never even tried a date back then but now they are my go to snack!   So my mission was to have our intern try another Larabar except this time it was a homemade Larabar.  I've been making Larabars or similar versions for awhile.  They are easy to make and taste great.  Better than the real deal if you ask me.  Plus, cheaper!  I find it really hard to pay over $1 for a little tiny bar.
Chocolate "Larabars"
1/2 c walnuts
1/2 c almonds
1 and 1/3 cups dates
1 tsp pure vanilla extract
3-4 T cocoa powder
a pinch of salt
Place all ingredients in a food processor.  Blend till combined.  Can be formed into bars or bite sized balls(did anyone else giggle at that? 🙂 ).  You can use all walnuts or any combination that you have on hand.  However, I tried it with all almonds and it didn't really stick well.  I guess there isn't enough natural oils in almonds.  You would probably have to use more dates.
The verdict from our young intern?  Good!  I don't think she is a total convert but she'll come around in 9 years once she hits the wise OLD age of 30!
Heart Healthy Tip
Enjoy moderate portions of chocolate (e.g., 1 ounce) a few times per week, and don't forget to eat other flavonoid-rich foods like apples, red wine, tea, onions and cranberries. Perfect tip for enjoying a Homemade Larabar or bathing in a tub of chocolate.  Happy Valentine's Day! 🙂