Over the weekend, I met up with my new running buddy (yah! Still so excited about that) for a super early morning long run. Joanne plotted out a 10 mile route for us. When she told me the details, I was a little hesitant. The route was partially on country roads with no sidewalks or street lights and a few busier roads. When I run in the dark, I usually stick to routes with sidewalks. I just don't trust drivers. But Joanne reassured me she's done this route hundreds of times and has felt safe just as long as we both wore all the necessary gear and were aware of our surroundings.
Here's 6 tips I've learned over the years from running in the dark:
1. Wear reflective, bright clothing.
This could be reflective stripping on your shirt, shorts, shoes, etc. Also consider a safety vest. You may look like a construction flag operator but there's a reason why they wear it – to be SEEN! I'm always amazed when I see people wearing all black. I love my dark workout gear but I save it for the daylight hours. I like this vest from Brooks. It's good for cold days in the fall, winter and spring.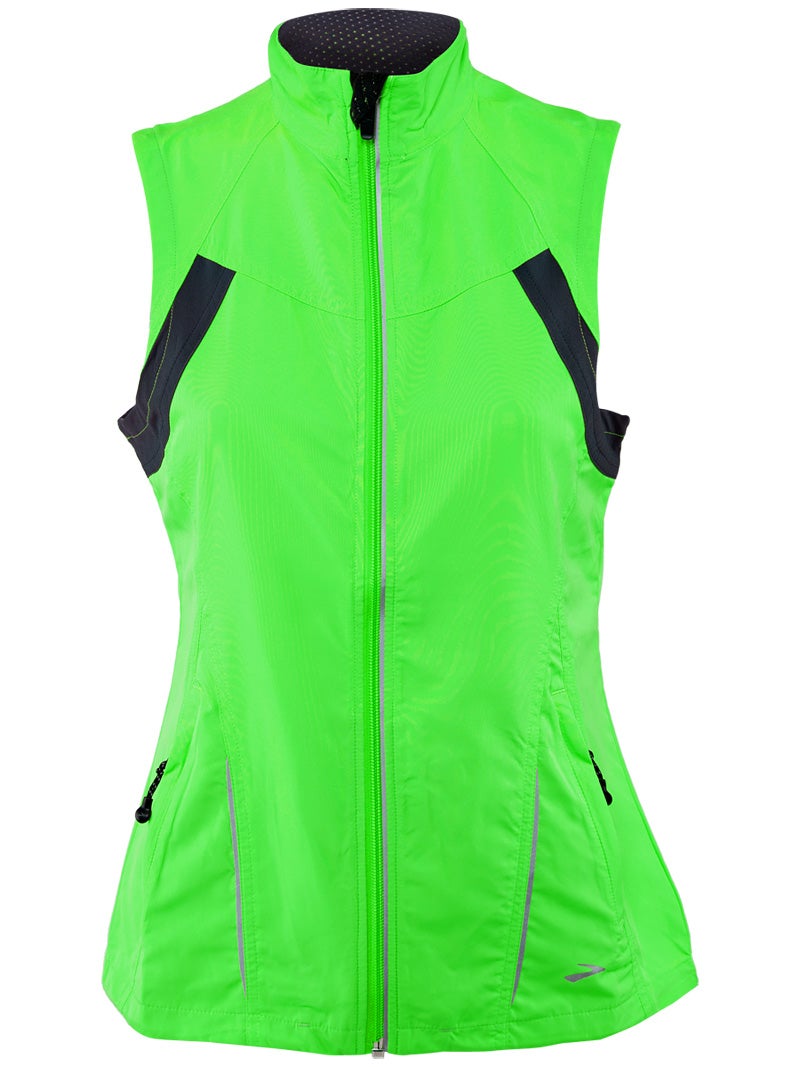 2. Wear a headlamp and/or blinking lights.
Headlamps will not only help you see the road better (even if there are streetlights) but drivers will be able to spot you better. There's a ton of different models available. I bought mine years ago for evening snowshoeing. It's not the most lightweight model but it works great.
3. Carry your phone and ID in case of an emergency.
I always take my phone and RoadID with me. Funny story – After my run with Joanne for the first time last week, I got home and started telling Ron about the route we ran. He said,  "Yeah, I know." Huh? He had tracked me using my phone location for the entire run. He just wanted to make sure I wasn't kidnapped by some crazy stalker! I guess I can't get away with anything now! 😉
4. Run facing traffic.
Great rule to follow no matter what time of day it is.
5. Leave the music at home!
You won't believe how many people I see running with headphones in the dark. Even if you have one earpiece in, it's still dangerous. Be aware of your surroundings at all times. I recently came upon a young girl running one morning who was wearing headphones. She didn't even look around as I came up behind her. In fact, her music was so loud, I could hear it. After passing her, the Mama in me took over and I began to worry about her safety so I double back and actually followed her for awhile. She probably thought I was a stalker but at least I knew she was o.k. for at least part of her run.
6. Vary your running routes.
I have numerous routes of varying distances mapped out so I can switch things up with every run. I avoid certain areas that I think are sketchy.
Of course, having a running buddy is also a great way to increase your visibility to cars and of course, there is safety in numbers. I never would have run the route we did over the weekend by myself but with a buddy it felt safer. Although, the deer that came bounding out of the woods up the road from us at one point did startle me at first. At least I think it was a deer. Maybe it was Sasquatch? 😉
Before I sign off, I have to send out CONGRATULATIONS to all of the Chicago Marathon runners!
My running buddy and friend, Steph, got her BQ!!! 3:33:03! She's such a strong runner with so much heart. She worked her butt off for it and rightly deserves that honor. So happy for you, Steph!!
Jess and her hubby also made it 26.2 miles together as #TeamSutera! It's been so fun following their journey for the past few months. Hard work and determination really does pay off!
Congrats to all!