Heart Healthy Tip of the Day
Excess weight can lead to high blood pressure, high cholesterol and diabetes which are all risk factors for heart disease.
One way to see if your weight is healthy is to calculate your body mass index (BMI).  Height and weight are used to determine whether you have a healthy or unhealthy percentage of body fat.  BMI numbers 25 and higher are associated with higher blood fats, higher blood pressure, and an increased risk of heart disease and stroke.
The BMI is a good tool but it can classify certain people as overweight. Women and men who are very muscular and physically fit can have high BMIs without added health risks.  Waist circumference is also a useful tool in determining abdominal fat.
Men are considered overweight if their waist measurement is greater than 40 inches
Women are overweight if their waist measurement is greater than 35 inches
Even a small weight loss of 10% of your body weight can be beneficial in reducing your risk for heart disease if you are overweight.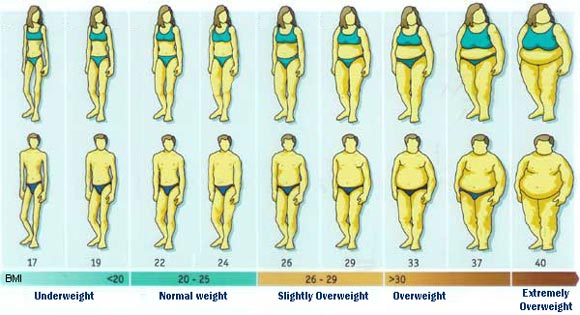 Did you wear red today?  Support the AHA and Go Red for Women!
Cooper and Me
One of my goals for 2012 was to make Cooper love me again.  We got Cooper from a Lab rescue group in Tennessee.  He was about 6 months old.  No one knew anything about him.  He was found running loose.  He was with a "foster family" for a couple months before he was ready for adoption.  The family that had him gushed about what a great dog he was.  Housebroken, crate trained, loved kids.  We saw his picture and fell in love.  December 31, 2006 Cooper arrived in New Hampshire on a snowy evening.  He was skinny and awkward but a goof ball.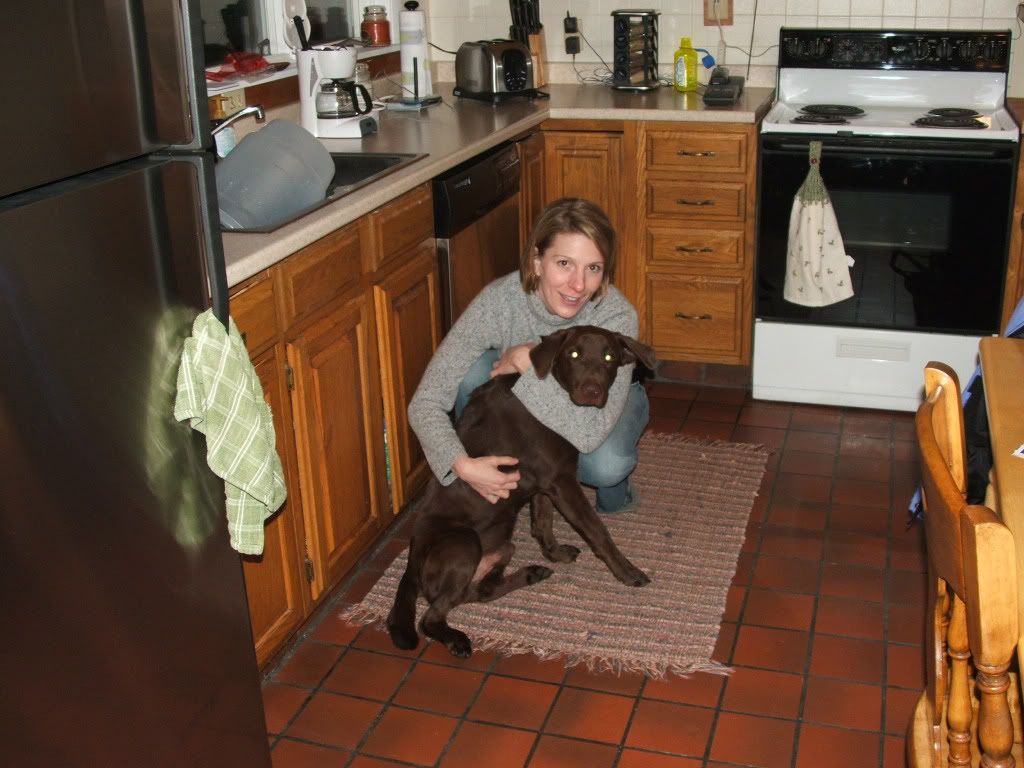 For 3 1/2 years, Cooper was the center of our world.  No competition from kids or other pets.  He was it.  We went for daily long walks.  On the weekends we would go to the beach or hiking in the mountains.  Life was good according to Coop!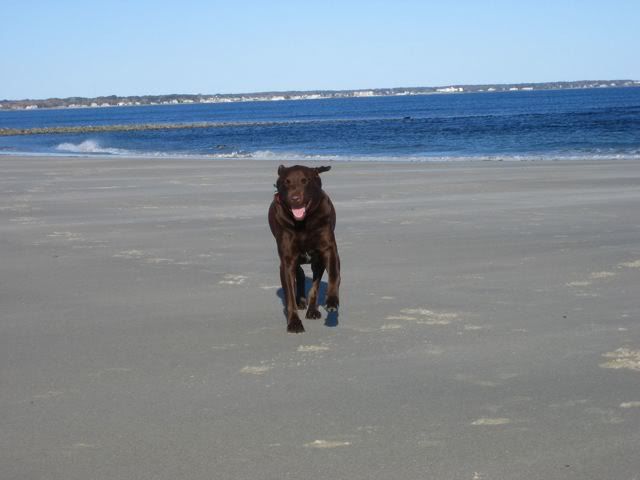 Then the kiddos came along in 2010.  Life changed for everyone!  Gone were the days of a quiet house, long walks, beach runs, and hiking.  Cooper really did not want much to do with the kids at first.  He seemed very depressed, keeping to himself, tucked upstairs in our bedroom away from all the noise.  As time has gone on, he's becoming more involved again.  He'll stay downstairs more, especially since the kids have been eating solid food and have learned to "share" with Coop.  When we go for walks, he comes along and is very happy.  However, one thing that has not really changed is that he does not want to walk with me alone.  We have had numerous battles over this.  We'll make it to the end of our driveway and he'll sit down, refusing to move forward.  After countless attempts, I gave up.  I said I would never take him for walk again. He has never done anything remotely like that to Ron.  I guess he blames me for the new chaos in his life!  So in an attempt to win back his love, I vowed to make 2012 the year of Cooper and Me.  January started out well.  He's never been a big runner while on a leash but loves trails.  Since we didn't have any snow I began taking him for short runs of about 1-2 miles on a nearby trail.  He loved it!  Now that we have snow, we haven't gone.  Our walks have been fewer, too.  Opps!  I'm failing Cooper!  I hoping we can get back on track for February and we can return to trail running.
Has anyone else experienced this with a pet after having kids?  Any tips?
Save