Happy Tuesday everyone!
I forgot to mention in yesterday's Market Square 10K recap to congratulate my friend, Lise, for finishing her first 10K! Girl rocked it even with a migraine that popped up at mile 2. Awesome job, Lise! 🙂
photos courtesy of Cheryl
Just a little #NHBlogger Bongo – ing!
I know you all are dying to know how my Week 3 of Marathon Training went. Watch this vlog and count how many times I flail my hands around. I'm guessing at least 500. I think I need to start sitting on my hands.
lululemon LOVE
Last Thursday I had the privilege of being invited to my local lululemon showroom for a Run Design Meeting.
They graciously invited a group of people who had at some point expressed an interest in lulu and were also runners.  They wanted us to bring our favorite non-lulu running clothes and explain what we liked about them. A member of their design team was the leader of the meeting and wanted to know our honest opinions on what products we wanted but couldn't find anywhere, what's our biggest running clothing complaint, and what we look for in a great piece of workout wear.
I didn't realize it that I had brought all Nike gear as my favorite non-lulu pieces until I started going through my stuff at the meeting.
Nike Tempo shorts – what runner doesn't like those?
Nike Running Skirt – shorts don't ride up at all and it's just the right length. Plus the pocket in the back holds my iphone. Not many pockets can do that!
Nike Training Jacket – perfect for running in the rain. It's repels water, keeps you just the right temperature and has a great Napaleon pocket that fits a lot without it bouncing around.
I love these pieces. Honestly, I think I bought them because they were not that expensive from the Nike Outlet. However, after being a part of the meeting, I have a bigger love for lululemon than ever before. Sure their products are expensive but you get what you pay for. Quality clothing that stands up through repeated sweat sessions and washings. The biggest selling point to me? I love that lululemon wants to hear from their customers. Actually you don't even have to be a customer –  one of the women from our meeting had never even tried on, let alone bought something from lulu. They just want opinions on how to continuously improve their products.Does Nike or other big name athletic apparel have design meetings? I'm sure they do with big name athletes but what about the average Joe or Josie who runs or does CrossFit a few times a week?
If I could, I would buy lululemon clothing exclusively but I can't. So until I win Mega Millions I'm going to buy workout clothes from wherever it's cheap (and delivers performance) BUT I'm also going to budget for some quality pieces from lulu. Remember this PR combo?
And these lovely non-wenis crops?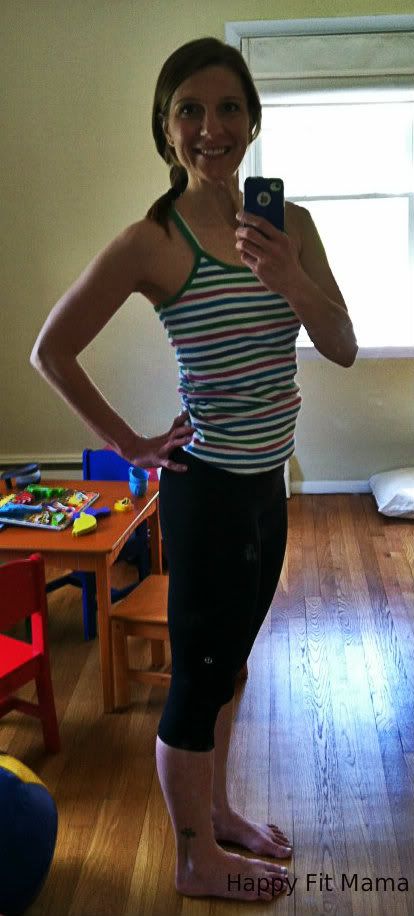 I totally forgot about Tuesday Trainer this week so I didn't submit my Vanity Move but make sure you check out Lindsay's List for a great workout!
Question of the Day
What's your favorite piece of running or workout clothing?