Hi everyone!  Welcome to my new home!  I'm still getting used to the place and don't have everything arranged the way I want it.  I've been a little overwhelmed redecorating with almost starting from scratch and learning new terminology.  I've said it before and I'll say it a thousand times –  thank God Ron is an IT guy!  He has done the majority of setting up the new host and domain.  He's very good about explaining all things IT but I just get a glazed look on my face much the same as when I talk about running to him. Things are still in the construction phase so don't be surprised if you see changes every time you visit!
I had hoped on running my scheduled 8 miles on Saturday.  I woke up that morning to more snow.  It eventually started to rain.  Snow + rain = big sloppy mess.  By the afternoon, the rain had stopped.  The run was on!  I'm usually not an afternoon or evening runner.  My energy level is low at that point but I wanted to get it over with so I could go to Barre Sunday morning.  Overall it went great.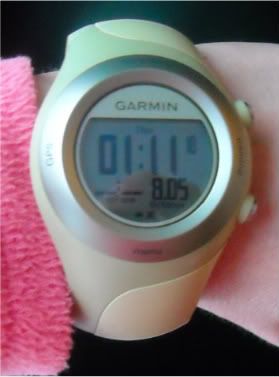 My pace was around 8:20-8:30 for the majority of the run.  I even ran so fast I passed a Bobcat. Up a hill.  It's really no big deal.  I think anyone could do it.  Especially if it's this type of Bobcat:
I know.  I'm bad ass.  If you train hard enough, you can run faster than a Bobcat, too. 🙂
I had a handful of fresh spinach leftover in the fridge and was trying to think of what I could do with it.  I recently saw on STUFT Mama Green Chia Cookie Monster Dip.  I've made something similar to it before but I liked adding spinach.  The kiddos love dips so I thought this would be a good way to get some greens in their bellies. I already make these weekly for snacks.  The result?  Everyone, including Mama, loved it!  I honestly could not stop eating it straight out of the food processor.  Score one for greens!
Green Peanut Butter Dip
adapted from Stuft Mama
Ingredients:
2 large handfuls of organic spinach
1 can chick peas, drained and rinsed
1/4 cup peanut butter ( or nut/seed butter of your choice)
1/8 cup pure maple syrup
2 tsp vanilla
1/8 tsp baking soda
1 tbsp Chia seeds
1 tbsp unsweetened vanilla almond milk (or milk of your choice)
Place all ingredients in food processor.
Blend till combined.
This dip is great with animal crackers, apple slices, graham crackers, homemade cinnamon tortilla chips, or made into a quesadilla.  Or be like me – eat it straight up from the bowl with your fingers! It would be great at a St. Paddy's Day party or for a certain someone's birthday celebration(moi!).
The apple slice was just used as a vehicle for A to eat more dip.  She kept asking for "more!" to be put on the slice.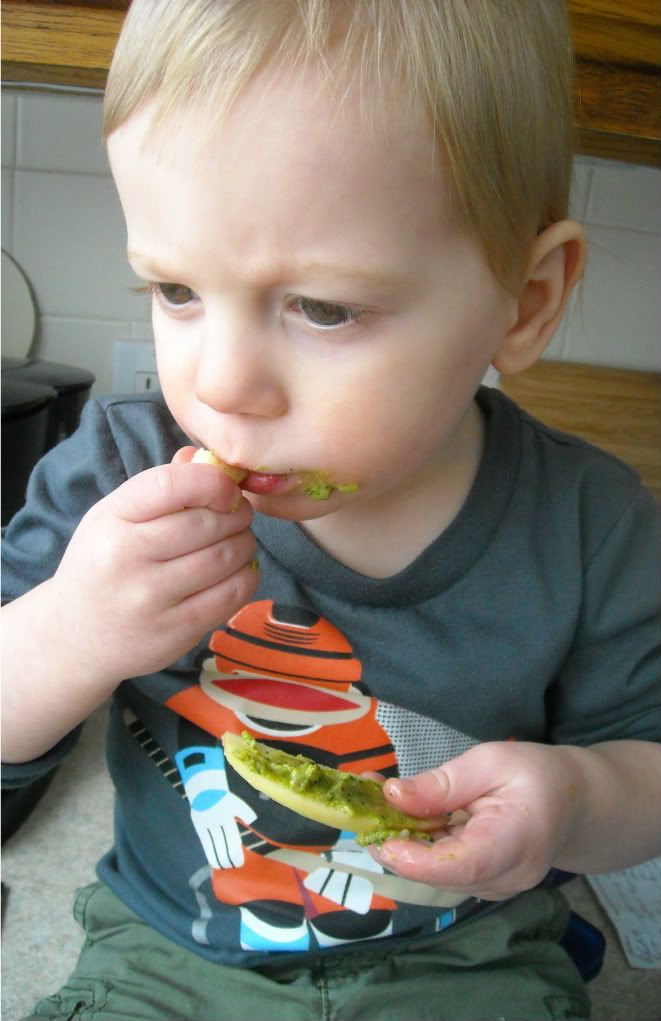 L ate it all!  He's my foodie!
Rasamaya recently changed their Sunday morning schedule so instead of doing yoga I went to Barre.  That class is always a kick in the butt reminder that I need to cross train.  The hardest part of the class isn't the planks, push ups, tricep dips or squats.  It's when we place one foot on the barre and then you have to raise it straight up off the barre.  The barre is about hip level or maybe a little higher  on me.  When you lift, it doesn't have to be far.  One inch.  I can not do that with out leaning wayyyyy back (which you are not supposed to do) on my standing foot.  Those kill me!  I think it's the curse of running.  Tight hip flexors.  I also need to do more core work to help lift those legs higher. Reminder to self: do these postures more often!
While hanging outside after a walk on Sunday, A and L discovered rocks.  And of course, throwing rocks.  Great.  I see a broken window in our future.
When I was growing up, my two older brothers were fighting in our garage.  A rock was thrown by one at the other.  He missed the intended target but hit the back window of the family car.  Needless to say my parents were not happy about having a shattered car window.  Oh, sibling love!  I'm hoping shattered windows are not in our future.
Have a great Monday everyone! 🙂
How was your run/workout over the weekend?
Any favorite recipes that sneak in vegetables?
Have you ever broke a window or mirror?