Hi Friends!
Thank you to all who suggested marathon training plans! It seems like Hal Higdon and Smart Coach are both popular plans. Another suggestion was for Pfitzinger. I've never heard of that before and checked it out over the weekend. It looks good. I've also thought about taking bits and pieces from all to make my own custom plan based on my likes and wants.
Headstand Pose Challenge
After seeing the responses from Friday's post, I think a Headstand Pose Challenge will be happening beginning in May. I'm excited to have friends come along with me on the journey! There's strength in numbers. There will be more details soon since May is next week. What??? How did that happen?
Eleven Miles
Saturday morning I woke up to a gray overcast day. Temps were in the 50s. Perfect running weather just as long as the rain held off. After last weekends tummy issues, I decided I'd try something different with food. For my pre-run breakfast, I made oatmeal with almond milk, chia seeds and a scoop of almond butter. I ate at about 6:15 so I thought that would give me plenty of time to digest and not feel like a lump was in my tummy during my whole run. I also made sure to drink a few glasses of water before I left the house.
I was contemplating not bringing anything for fuel during the run. At the last minute, I grabbed a packet of Annie's Organic Fruit Snacks just in case I wanted something. I also filled up my water bottle and popped in a Tropical Fruit NUUN for post run hydration.
My friend Erika was available to run again so I picked her up and we headed to Runner's Alley to meet up with the CAA group. It was actually quite a smaller group for the morning run. There were a few races going on that day so I think maybe that's where the majority were. I actually had wanted to do the Stonyfield Earth Day 5K but when I looked at the forecast earlier in the week, I saw that it was supposed to rain on the weekend. I didn't want to drive to Londonderry for a race in the rain. Plus, the festival would not have been any fun if the weather was horrible. Turned out it was a beautiful day! My loss! Maybe next year.
The plan was to run 11 miles. There is some construction going on around town so our usual route was switched up. That meant no running on the beach, just near it. Boo! We started off at a great pace. The miles flew by as the conversation flowed freely. Erika was actually battling a cold but she began to feel better the farther we got out. Ahhh, the power of running!
And just because I can't get enough pictures of lighthouses and the ocean, here's one more!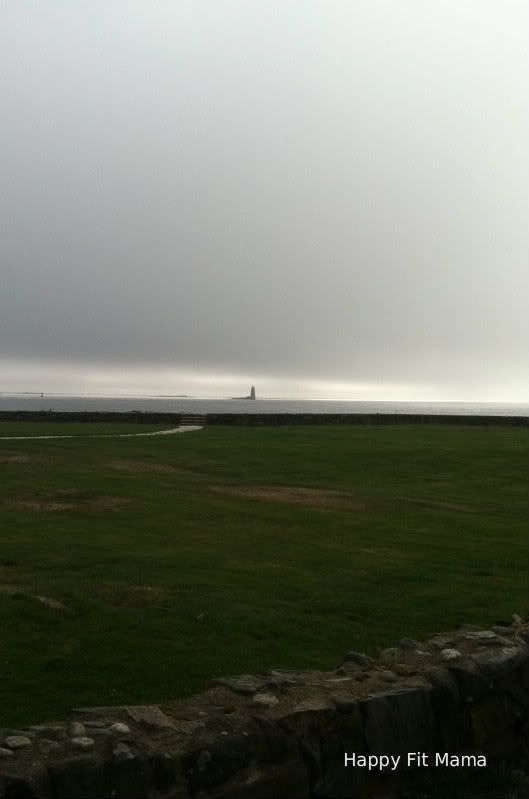 Erika and I veered off from the rest of the runners to add an additional 3 miles. At around mile 7 I started to get a little hungry so I chomped on some fruit snacks. I prayed my tummy would be able to handle it!
Near the end of the run, the clouds broke up and the sun beat down on us. I'm glad we were nearing the last mile because it was quite warm. We ran through downtown Portsmouth and by the new location of the Lululemon Showroom that will be opening this week. You know where I'll be next weekend! Oh, in case you were wondering I ran in my Run: Excel Crops. Not once did I have to adjust the waistband or pull them up. So comfortable and cute!
We finished our 11 miles in 1:35. Average pace was about 8:30. I felt great the whole time. Erika really did awesome! She is just getting into upping her mileage so bravo to her! Thanks, Erika, for giving me a little extra push!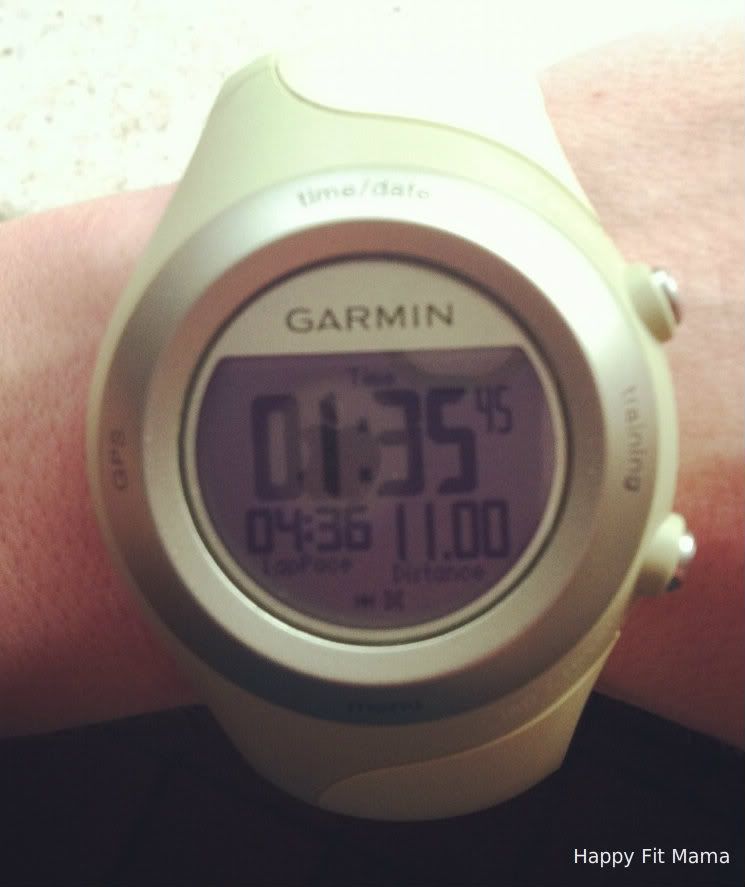 I'm sorry to say that my tummy was not fine when I got home. In fact I felt pretty nauseous, too. It passed relatively quickly as compared to last week. I was feeling better within a few hours. Maybe it's the NUUN? I'll leave that out next weekend as a test.
So how does an Old Married Lady like me spend her Saturday night?
Just a little foam rollin' and compression socks kind of night! I know, I'm kind of wild! 🙂
Have a great Monday!
Questions of the Day
Would you rather run on a wooded trail or by the ocean?
Do you use a foam roller? Keep your eyes peeled for a How-To video on foam rollers this week on HFM.