Hey friends!
Happy day before the long Holiday weekend if you're in the states(and if you are lucky enough to get Friday off too)! Any big plans for the 4th? We're taking it easy and hopefully will be soaking up some sunshine at the pool or the beach with a little cookout too.
Since it's summer, I don't want to be stuck inside for my workouts. I cycle, walk and run (when not on the injured reserve list!). So why not take my strength training workouts outside too? I've been taking things out of my "lab" (aka basement) to do my own backyard bootcamp. The early morning daylight and warm temperatures are perfect. The drawback of a backyard bootcamp at dawn after rain all night? You'll spend LOTS of time swatting mosquitoes. But you will move a lot faster too. 🙂
Kick off your 4th of July celebrations with this Firecracker Workout and then spend the rest of your day relaxing and enjoying.
Here are a few more workouts from my bloggy friends that don't require any special equipment that can be done anywhere, anytime. Click on each graphic to visit their blog!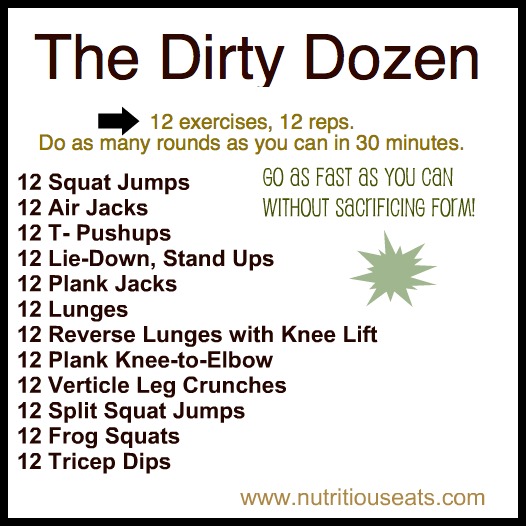 I highly encourage you to take all your workouts outside. Fresh air is good for the soul!
What are your plans for the 4th?
Got a favorite backyard workout? Add it to the comments and share!