Hi Friends!
The training is essentially done. Saturday was my last long run before Wallis Sands 1/2 Marathon this weekend. My friend Erika and I ran around town on our own rather than meeting up with the running group. We were shooting for 12 miles and Erika was in charge of mapping out the route. It was crazy windy on Friday night so we hoped that it would die down by the morning. Of course, it didn't. So on top of the wind hitting us in every direction and practically knocking us over, Erika picked a route that included every single big hill within a 5 mile radius. I informed her MANY times throughout the run that she will never be in charge of the route again! Despite the horrible conditions we didn't do half bad. Twelve miles in 1:47. Not the best time but not the worst. The really good news is that next weekends race is flat as a pancake except for a few minor hills. No problem, I've got it! 🙂
Foodie Penpals
It's hard to believe we are at the end of another month. Seriously, time needs to slow down! What better way to start a Monday than to reveal my Foodie Penpals package!
April was my first month so this was all very new to me. Lindsay of The Lean Green Bean is one organized lady to get 600 penpals matched up. I don't know if I could organize 6 people! A big THANK YOU to Lindsay for being an awesome host!
My penpal this month was Morgan from Crazy 4 Oats. Any girl who is crazy for oats is fabulous in my book! Check out her blog for some tasty oatmeal creations.
I was beyond excited when her package arrived. I quickly opened up the box to find this:
I love it! I felt like I was back in college and my Mom was sending me a care package. Morgan definitely did her research and picked out some fabulous finds.
Larabars, Justin's Peanut Butter and Crunchmaster Crackers? Morgan is a mind reader! All of my favorite snacks. I drool over Justin's Peanut Butter every time I see it in the grocery store. Plus, the single packets are so convenient for on the go snacking or work.
Amy's Lentil Soup is a favorite in our house, too. My kiddos devour it whenever we make it for a quick lunch or dinner.
The Stretch Island Fruit Co. Fruit leather is actually one of Ron's favorite things. I was kind and let him enjoy it. ( He wanted me to make sure I thanked Morgan for thinking of him, too!)
I tried the Tera's Whey (Bourbon Vanilla flavor) mixed with Almond Milk after a tough 6 mile speed workout. Holy yum! I have not had too many whey or protein powders but have found lately that drinking something is really the only thing that sounds good after a hard workout. The flavor was great. It was REAL vanilla instead of the fake vanilla taste that most flavored products have. I loved that it was all natural/organic ingredients that I could pronounce. I'm going to keep my eyes open for any Tera's Whey products from now on.
The crem de la creme was 479° Popcorn. A-MA-ZING! I had never heard of it before but I want to buy stock in the company. I love popcorn but this took it to a whole other level. Black Truffle and White Cheddar Cheese has got to be one of the best combinations ever.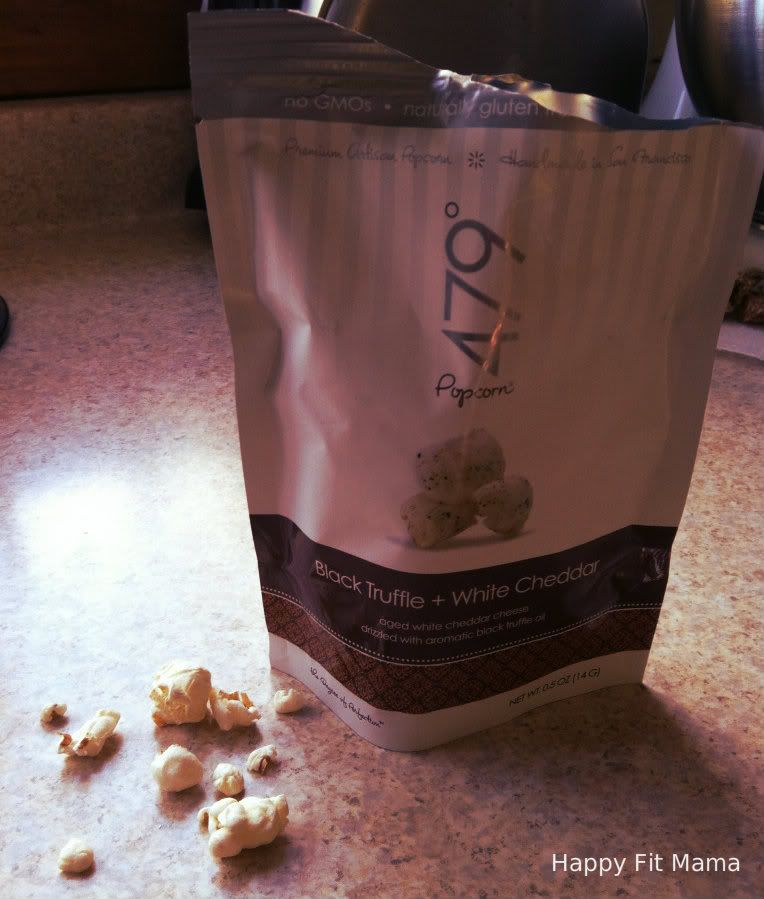 That bag didn't have a chance once my hands got a hold of it!
A HUGE thank you to Morgan! You rocked my Foodie Penpals socks off! 🙂
If you are interested in participating in the Foodie Penpals program here's the details straight from Lindsay:
-On the 5th of every month, you will receive your penpal pairing via email. It will be your responsibility to contact your penpal and get their mailing address and any other information you might need like allergies or dietary restrictions.
-You will have until the 15th of the month to put your box of goodies in the mail. On the last day of the month, you will post about the goodies you received from your penpal! 
-The boxes are to be filled with fun foodie things, local food items or even homemade treats! The spending limit is $15. The box must also include something written. This can be anything from a note explaining what's in the box, to a fun recipe…use your imagination!
-You are responsible for figuring out the best way to ship your items depending on their size and how fragile they are. (Don't forget about flat rate boxes!)
–Foodie Penpals is open to blog readers as well as bloggers. If you're a reader and you get paired with a blogger, you are to write a short guest post for your penpal to post on their blog about what you received. If two readers are paired together, neither needs to worry about writing a post for that month.
-Foodie Penplas is open to US & Canadian residents.  Please note, Canadian Residents will be paired with other Canadians only. We've determined things might get too slow and backed up if we're trying to send foods through customs across the border from US to Canada and vice versa. So, I'm going to keep two separate lists and match US w/ US and Canada w/ Canada!
Now head on over to The Lean Green Bean to check out what other penpals received and to sign up for next month. Who knows, you could be my next Foodie Penpal!
Question of the Day
When's the last time you received a care package full of goodies in the mail?