Hi everyone! Welcome to Friday.  Yay! I'm super excited for the weekend (as usual) but tomorrow is a big day for me. It's my birthday! Yes, my birthday is on St. Patrick's Day. No, it really isn't as fun as you would think it would be. 🙂
Anyway, on the giveaway!
I'm a Moms Meet Blogger Ambassador. I was recently chosen to review a new product, Annie's Organic Rising Crust Pizza.
You are probably aware of other Annie's products like their bunny's, granola bars, and breakfast cereals. Did you know there really is an Annie and she lives in Connecticut? She has a farm there and sells fresh veggies from her farm stand. I love that!
Annie's Organic Rising Crust Pizza is brand new and currently only available at Whole Foods.There is a plan for it to be introduced into other stores in the future. So here's the details about the pizza:
Certified organic
Naturally rising crust, 8 grams whole grains per serving
Meats with no added nitrates or nitrites*
100% real cheese, made with milk from cows not treated with the growth hormone rBST+
Family size, 11.5″ pizza
Available in four flavors: Uncured Pepperoni, Supreme, Spinach and Mushroom and Four Cheese
*Except for naturally occurring nitrates in sea salt or celery juice powder
+No significant difference has been show between milk derived from rBST-treated and non rBST-treated cows.
We decided to try two varieties: Supreme and Spinach and Mushroom. I feel like I should disclose that Ron is a pizza connoisseur. He LOVES pizza. Whenever I ask what he wants for dinner, the first answer is always, "pizza." Lately, he has been making our own pizzas from scratch. It's been quite awhile since we had an actual frozen pizza.
Upon opening the box, the first impression was that the toppings were actually present! How many times have you got a frozen pizza to find that the box looks nothing like the actual pizza? The pepperoni, sausage, peppers, and onion were evenly distributed, too.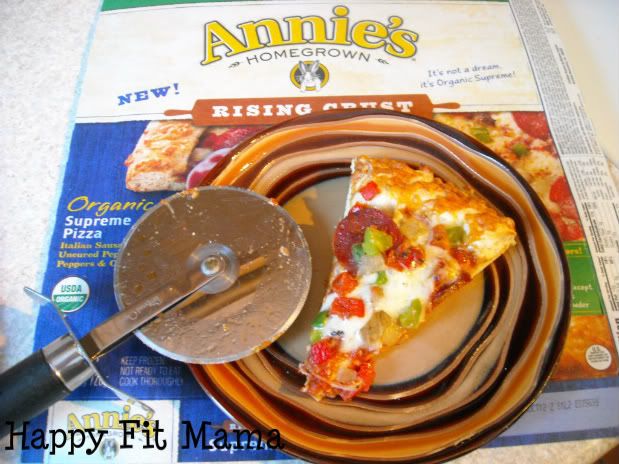 The big test was the taste. We loved the crust! It's really doughy and soft. I'm not a fan of pepperoni or sausage so I picked those off. Ron liked the pepperoni but not the sausage. He said it didn't have enough flavor. The veggies were good. There was enough cheese and it tasted great. The sauce was o.k. It was a little too sweet for my taste. The kiddos ate it up! They loved it!
Overall, I'd say Annie's Organic Rising Crust Pizza is good. I prefer to have one of Ron's homemade pizzas but if I was in a pinch for something quick, I would choose an Annie's over any other frozen pizza.
Want to win a coupon for a FREE Annie's Organic Rising Crust Pizza?
Since I have to share my birthday with St. Patrick I thought I'd share a present with you to enjoy! Here's how to enter:
Let me know what your favorite toppings are on a pizza (mandatory entry)
Subscribe to Happy Fit Mama (1 entry)
Tweet about the giveaway (1 entry)
Follow me on Twitter (1 entry)
Follow me on Pinterest (1 entry)
Make sure you leave a separate comment for each entry!
I will pick a winner using random.org on March 23, 2012.  Good luck!
*Please note that the free coupon can only be redeemed at Whole Foods.
I received this product for free from the sponsor of the Moms Meet program, May Media Group, LLC, who received it directly from the manufacturer. As a Moms Meet Blogger, I agreed to use this product and post a review on my blog. My opinions do not necessarily reflect the opinions of May Media Group, LLC or the manufacturer of the product.

For more information about Annie's Homegrown go to:
annies.com/pizza or Facebook.com/annieshomegrown