This post was sponsored by ACE™ Brand. I was compensated for my time. All thoughts and opinions are 100% my own.
With marathon training in full force now, I'm trying to paying greater attention to my recovery from hard workouts. Higher mileage, speed work and hill training leave my legs feeling like Jell-o but also super tight and fatigued. I'm guilty of skipping a lot of the steps in recovery just because Mama and general life duties pop up as soon as I walk in the door post run.
I needed to start looking at recovery as just as important as the actual workout. To gain strength, speed, etc, muscles grow and become stronger when they are subjected to forces that cause tiny tears in the muscle fibers. It's during recovery that the body repairs these fibers and builds new blood vessels to the stressed area.
None of this happens unless you have proper rest and recovery.
Here are 5 post run recovery tips I've been using to help reduce soreness and enhance my fitness to get back on the road again:
1. Fuel up – Post runs over 1 hour, you have about a 30 minute window to refuel to avoid insufficient glycogen stores for your next workout. I try to get the recommended 4 to 1 ratio of carbohydrates to protein via a smoothie or bowl of oats with nuts and fruit.
2. Ice and cold baths – Since my tendon injury last year, I've been faithfully icing after every single run. I have even jumped on the cold bath bandwagon. No ice, just cold, cold water. I recently read cold water from the tap, as long as it is about 20 degrees colder than body temp, is equivalent to ice. It's been helping my legs feel so much better. And my kids think it's hilarious that I'm sitting in the bathtub fully clothed!
3. Foam roll/Stretch – My foam roller has become a part of my daily routine. I'll roll for 10-15 minutes targeting my quads, hamstring and calves. Stretching regularly has helped too. I've been slacking on yoga quite a bit and can tell the difference. I'm recommitting myself to it.
4. Compress –  Compression socks and wraps are my BFF's. I don't like to wear them during a run but love to feel the squeeze post workout. I prefer the full socks rather than sleeves for the ankle/foot compression too.
5. Sleep/Nap – I try to get at least 7 hours of sleep a night or more before a long run or hard workout. On the weekends when I do my long run, I take a 30 minute power nap when my kids go down for theirs. I feel recharged even if I just close my eyes and rest.
Recently,  ACE™ Brand reached out to me to try their new ACE™ Brand Elastic Bandage with ACE Brand Clip. Given my history with injuries, I jumped at the chance.  Like I mentioned above, I'm being proactive this training period with icing. It's not uncommon to see me with an ankle or knee wrapped with a bag of ice. Previous wraps I used had an annoying metal clip that would get lost or never stay put. With the new wraps, the clip is built in!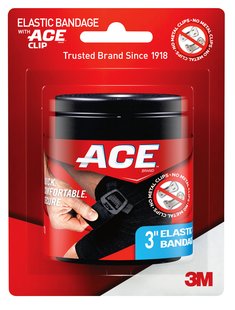 Here are the product details:
Easy to adjust and won't snag your clothing. It snaps into place and holds securely.
Provides customized compression for sprains and strains.
Bandage retains elasticity after repeated use and washings
ACE™ Brand says they Fixed the Clip? And I agree! The instructions are easy to follow and my ice pack stayed in place on my ankle or knee. I also have worn the wrap for post run compression. It felt wonderful! The clip stayed in place and never needed adjusting.
If you don't believe me, check out this series of videos featuring "Arthur, ACE™ Brand Motivational Sportsgent" talking about how they "Fixed the Clip"!
Video #1: We Fixed the Clip with Motivational Sportsgent, Arthur: "Unleash The Lions"
Video #2: We Fixed the Clip with Motivational Sportsgent, Arthur: "To the Sport"
Video #3: We Fixed the Clip with Motivational Sportsgent, Arthur: "Did He Mean Lost"
For more ways to connect with ACE™ Brand find them on:
What are your post run/hard workout recovery tips?
What's the worst injury you've ever had?